Pop quiz: What cruise ship holds the record for the fastest transatlantic crossing? If you guessed the Carnival Vista or Norwegian Breakaway or any other modern marvel, take a seat. Because the record holder is actually a ship christened in June of 1951 before her maiden voyage on July 3, 1951… and she's currently in danger of going away forever.
Meet The S.S. United States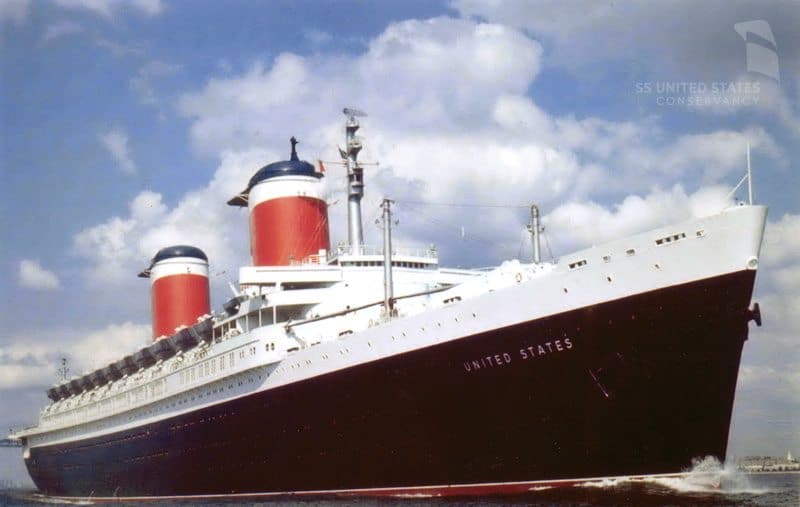 The largest passenger ship ever built in America, the United States was built by United States Lines in conjunction with the government and designed to be part luxury liner, part potential weapon. 100 feet longer than the Titanic, it has been called "the most famous ship that didn't sink."
And as the fastest cruise ship ever built, it was able to break the transatlantic speed record previously held by the Queen Mary, making the voyage in 3 days, 10 hours and 40 minutes.
While she traveled at an average speed of around 34 knots (or 39 miles per hour), reports of her speed were exaggerated at the time, a fact kept secret for many years. And while she held both the eastbound and westbound record for years, she eventually lost the former — in 1990 — to an ocean-going catamaran known as the Hoverspeed Great Britain.
Where Is She Now?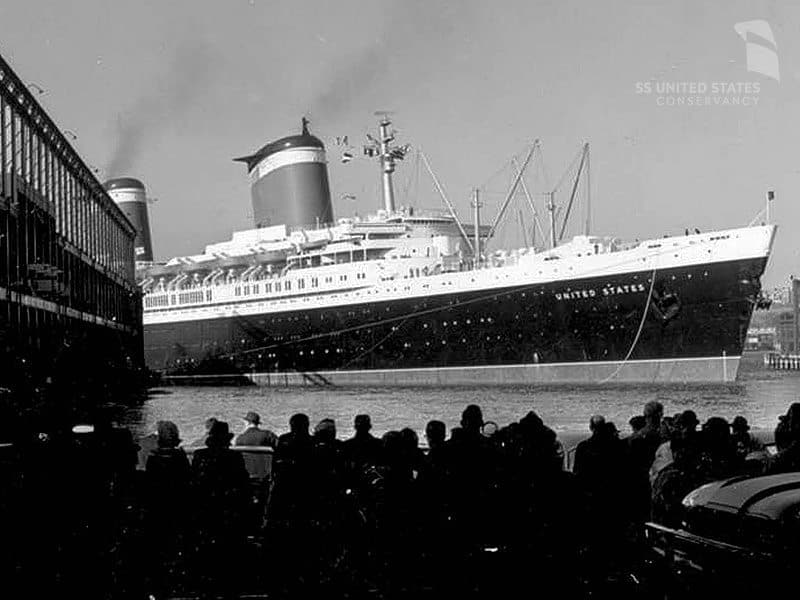 In 1969, the ship — which was no longer turning a profit — was retired from service, and although in 1977 there was a plan to see her relocated to Atlantic City to be used as a hotel and casino, that did not actually come to pass. Instead, she was sold for $5 million to a group which planned to revamp her into a time-share cruise ship. But this plan, too, hit the skids.
The United States was eyed by other companies, including at one point Norwegian Cruise Line, Crystal Cruises, and even the Navy, which considered converting her into a floating hospital. But in 1984, her fittings and furniture were auctioned off and in 1996, the ship was towed to her current location at Pier 84 in Philadelphia.
In the years since, the ship has been eyed by numerous groups, organizations and cruise lines, but nothing has come to pass. But a non-profit organization called the S.S. United States Conservancy is hoping to save what they have dubbed "America's flagship." Hoping to rally Americans around the cause, the group's YouTube ad explains that, "like our country, the [ship] has beaten the odds. She remains afloat, and she is ready for renewal as a waterfront destination and a living museum of what unites us."
How You Can Help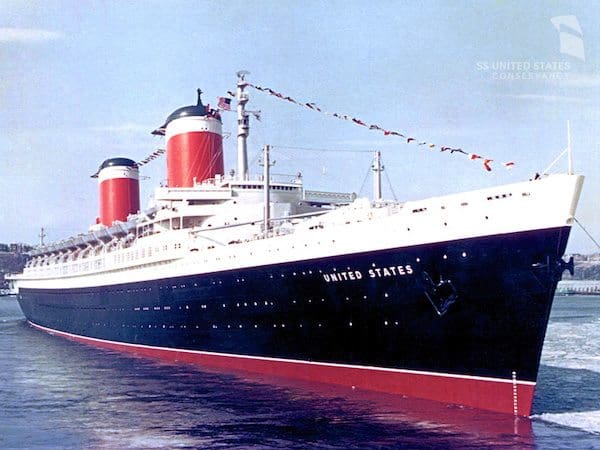 The conservancy is hoping to raise $500,000 by — appropriately enough — July 4th in order to convert the ship into a mixed-use museum and development complex. Unfortunately, the exorbitant cost of bringing the ship up to modern standards — not to mention completely rebuilding and renovating the interiors — make it unlikely that she will ever be used to ferry passengers again. However, if enough money isn't raised to make converting her into something useable feasible, it's likely that the United States will wind up scrapped or possibly even turned into a submerged reef.
There are, however, several ways in which you can help the effort to save the ship. The conservancy has organized a GoFundMePage, or for something a tad more personal, you can actually pick a particular square inch of the ship to save via the "explore and donate" option.
Featured photo: Save the United States