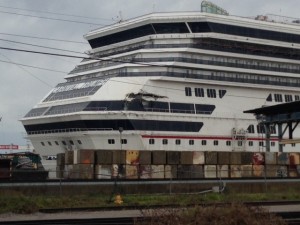 UPDATED 7:45p EDT
Heavy wind gusts caused Carnival Triumph to break free from a dock in Mobile, Alabama this afternoon, according to local news station WKRG-TV.
The ship was quickly retrieved by two tug boats in the harbor and secured dockside. The vessel sustained damage on the rear right side.
Carnival said in a statement, "Due to strong winds in Mobile, Ala., Carnival Triumph, which was docked at a Mobile shipyard, broke away from its moorings. The ship drifted and is currently resting against a cargo vessel.  Tug boats and the U.S. Coast Guard are on site."
Mobile, Alabama experienced a band of strong thunderstorms earlier today with gusts up to 70 mph.
All of the approximately 600 crew and 200 contractors who were onboard the vessel are safe and have been accounted for through a roll call.  There are no reports of injuries.  While assessment of damage to the ship is ongoing, initial indications suggest the damage is limited.
"According to reports, two shipyard employees on an adjacent pier fell into the water. One has reportedly been rescued by the U.S. Coast Guard and the search continues for the second.  Our thoughts and prayers are with the missing shipyard employee and the family," Carnival sail in a statement.
Carnival Triumph remains at BAE Ship Systems in Mobile for repairs after an engine room fire took the vessel out of service in February.
Subscribe to our Cruise Updates.
Related articles