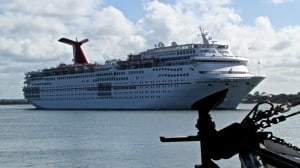 The North American cruise industry continued to be a substantial contributor to the U.S. economy in 2012 according to an independent study commissioned by Cruise Lines International Association (CLIA). The study shows that CLIA's 26 North American member lines and their passengers and crew contributed over $42 billion in total U.S. economic impact, a 4.6 percent increase from 2011.  In addition, the cruise industry generated 356,311 jobs, paying a record $17.4 billion in wages to American workers.
Here's the breakdown:
Total economic impact on the U.S. economy grew by 4.6 percent to $42.3 billion in 2012, with direct spending by the cruise industry growing by 4.0 percent to $19.6 billion.
During 2012, CLIA's North American cruise line members carried nearly 17 million passengers on cruises around the globe. This represented a 3.8 percent increase from the previous year.
An estimated 10.1 million cruise passengers embarked on their cruises at U.S. ports, accounting for 59 percent of the CLIA North America member cruise line global embarkations and representing a 2.5 percent increase from 2011.
The North American cruise industry benefited every state in the nation through direct purchases of goods and services, with approximately 80 percent of the impact concentrated in ten states – Florida, California, Texas, New York, Alaska, Washington, Georgia, Massachusetts, Illinois and New Jersey.
Key data points for the top five states impacted by the cruise industry include:
#1: Florida ports handled approximately 6.1 million embarkations and accounted for 60 percent of all U.S. cruise embarkations in 2012. Florida businesses received $7 billion, or 36 percent of the direct expenditures generated by the cruise industry in the U.S.
#2: California cruise ports combined generated just under 837,000 passenger embarkations during 2012, 8.3 percent of total U.S. embarkations. As a result of the activity of the cruise industry, direct expenditures generated total economic impacts of 42,833 jobs and $2.4 billion in income throughout the California economy during 2012
#3: The primary cruise port in Texas is Galveston, which had 604,000 embarkations, or 6 percent of total U.S. cruise embarkations, in 2012. Cruise activity in Texas accounted for $1.24 billion in direct spending and 19,745 jobs paying $1.1 billion in income.
#4: New York accounted for 6.3 percent of the industry's direct expenditures with $1.24 billion – and this spending generated an estimated 16,342 jobs paying $944 million in income.
#5: Alaska ports received about 3.55 million cruise passenger visits, approximately 65 percent of all port-of-call cruise passenger visits at U.S. ports. Direct expenditures in Alaska generated total economic impacts of 22,632 jobs and $1.03 billion in income during 2012.
More facts on the cruise economy can be seen here.
Source: CLIA
Subscribe to our Cruise Updates.
Related articles