We are heading to Freeport, Bahamas this spring. After reading the message boards, everyone says just to stay on the ship because it's a dump. Is this true? Do you have any inexpensive suggestions for a beach day in Freeport?
– Peter Voider, St. Augustine, Florida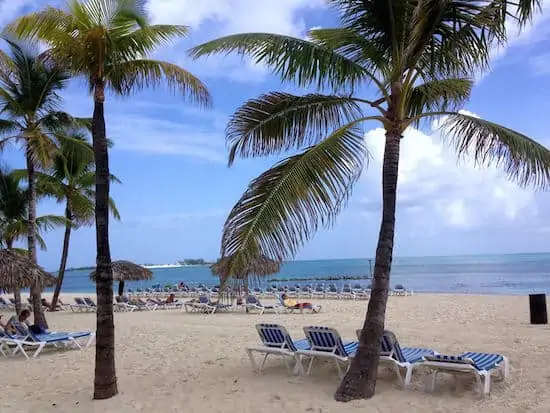 Thanks for the email, Peter.
Freeport, Bahamas always seems to be a work in progress. The first time I went to Freeport was in 2011 and it was nothing but a place for cruise ships to dock. Fast forward to 2012, 2013 and most recently, December 2014 – there has been a lot of growth and a couple things to do. They were constructing more buildings last time I was there.
At the end of the day there isn't much to do at the cruise pier.
What to do
You will dock about 15 minutes from the town of Lucaya. There you'll find plenty of shops, dining and a marina with plenty of bars if you just want to get off the ship. For $10 round trip, there are taxi vans that run every thirty minutes between the cruise pier and Lucaya.
You mentioned that you wanted something to do inexpensive. After taking a glance at the cruise excursions offered by the cruise lines. Your best bet maybe to enjoy a beach day. They have a free public beach, but I highly suggest spending the $15 per person and going to the Grand Lucayan Resort. Pools, loungers, water sports, free wifi and plenty of bar options – only $15 per person.
You won't even have to ask where it's located because it's the only stop for the taxi vans in Lucayan.
Read the write up we did after a recent visit.
For $25 per person (taxi and resort fee) you can't go wrong.
Also, I'd recommend checking out the offerings from Shore Excursions Group in Freeport. They're a third party shore excursion company that tend to run a little less than the cruise line excursions.
I hope this helps. Don't stay on the ship all day. Not everything you read on the internet is true – unless it's found on Cruise Radio!
Have you subscribed to Cruise Radio yet? Subscribe to us on iTunes and Stitcher Radio Network.
Pin this! ↘︎