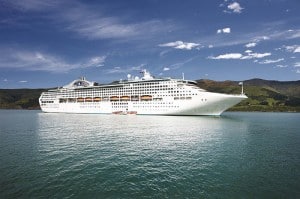 Sun Princess has begun an extensive $30 million transformation that will refurbish and enhance the Princess Cruises ship. During the two-week makeover, the vessel will receive a sparkling new atrium with Princess' signature International Café, a new sushi and seafood venue, an updated Horizon Court buffet, and a refreshed Lotus Spa.
Interested viewers can follow the drydock progress while the ship is at the Sembawang shipyard in Singapore with regular photo updates offering a behind-the-scenes glimpse each day through August 20. The online drydock journal will offer a rare "insider's" look at the work required to transform the ship with new interior furnishings and finishes, fresh hull paint and exterior refurbishment, and its new contemporary and Asian-style touches.
When Sun Princess emerges from drydock, the ship's new atrium will feature Princess' signature International Café with expanded seating and new décor. A new dining venue, Kai Sushi, will serve up sushi and seafood. The Horizon Court will feature contemporary food service areas and action stations for live a la carte cooking as well as a special pastry shop and coffee bar, refreshed décor and expanded seating. A sophisticated space designed especially for the ship's Sterling Steakhouse experience will also debut. The ship's top deck hamburger grill will be transformed into an al fresco barbeque venue, and the ice cream bar will add specialty coffee options. The Lotus Spa will also get a thorough makeover, with new décor.
Once out of drydock, Sun Princess will set sail on a season of Asia and Australia cruises, before beginning a second season of Japan-based cruising in April 2014.
The new features aboard Sun Princess add to the ship's current impressive array of dining and entertainment options plus signature innovations such as the popular Movies Under the Stars poolside theater and The Sanctuary, an exclusive top-deck retreat. The 77,000-ton Sun Princess carries 2,022 passengers and features a high number of staterooms with private balconies, a steakhouse, pizzeria, boutiques, and internet café among other amenities.
Source: Princess
Subscribe to our Cruise Updates.
Related articles