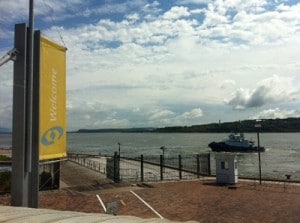 At the 2012 Canada/New England Cruise Symposium in Quebec City,  Christine Duffy, President and ceo of CLIA (Cruise Line International Association), gave results of a travel agent survey conducted earlier this year about the Canada/New England cruise market by 378 agents.
The study showed 42% of travel agents believe first timers are key to the success, 75% surveyed said the port has significant potential for growth. The area marked highly in beauty,
Yves Gentil, Director of Destination Quebec , said, "Geography is our best asset but worst enemy." With all the direct flight options out of the major US gateways, people tend to want to go to other places since Canada is so close and has a perception of being the same as the USA. The shorter itineraries in the Caribbean and the $199 cruise fares play a role in the factor too.
"We need to tell a better story about the value of a cruise vacation here [Canada/New England], not just the Caribbean," said Christine.
The Canada/New England market is continuing to grow, Quebec City alone will see 118 ships this year and expected to bring  250,000 passengers in 2012, up from 110,000 in 2011.
Subscribe to our Cruise News Updates.
Related articles