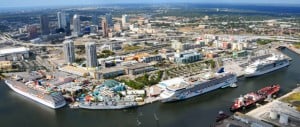 The Port of Tampa was shut down this morning for a few hours after a K-9 dog had a hit on a pallet of supplies that were to be loaded onto a Royal Caribbean cruise ship, this first reported by WUSF News.
"During a routine cargo screening shortly after 9 a.m. today, a specially-trained K-9 alerted to an item on the Terminal 3 dock near a Royal Caribbean cruise ship," a Hillsborough County Sheriff's Office spokesperson said.  "A second K-9 was brought in and also alerted to the same item."
After screening  the pallet it was cleared and released. The pallet had nothing on it but liquor that was shipped from the cruise line's Miami warehouse.
Jewel of the Seas continued embarkation earlier this afternoon and will sail a four-day cruise to Cozumel without interruption.
The Tampa cruise ship terminal operates cruise traffic year-round.
Subscribe to our Cruise Updates.
Related articles