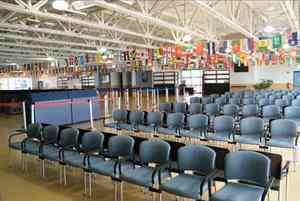 The Tampa Port Authority recently gave Carnival Cruise Line's Terminal 2 and Holland America's Terminal 6 a face lift. The terminals received new coats of paint, photos, flags, and interior upgrades.
December will mark 18 years since Carnival has been sailing out of the port. Carnival Legend sails 7-night Caribbean sailings and starting December Carnival Paradise will alternate 3 and 4-night Western Caribbean sailings.
"Carnival Cruise Lines is a fantastic partner with a huge imprint on the Tampa cruise market, and we are proud to enhance the facilities with them, hand in hand. Our facilities continue to get strong positive feedback from our customers and these improvements will add to that experience," Richard Wainio, Tampa's port director and chief executive, said.
While Holland America's 1,270-passenger Ryndam sails seasonally out of Tampa on 7 and 14- night itineraries.
Photo credit: Tampa Port Authority