On a recent sailing aboard Carnival Ecstasy out of Miami I had a chance to test out a concept that Carnival launched back in January – Carnival LIVE. The concept puts Grammy-award winning artists and groups on their Fun Ships, giving guests a chance to see their favorite singers perform a 75-minute concert in an intimate setting.
Hear our Carnival LIVE concert sailing here. 
How does Carnival LIVE work?
Currently there are 16 artists who are performing 49 concerts across the fleet of Carnival ships. The artists aren't going to be on the sailing, instead the cruise ship stays in port a little bit later and the artist loads in, does a sound check, performs and loads out. The next night performing on another ship. Guests can pick their artist, their ship and set sail on a vacation with the added value of their favorite artist or band performing in port.
On our sailing Martina McBride performed on our ship, Carnival Ecstasy, and then next night she would perform on Carnival Paradise.
The experience
Aboard Carnival Ecstasy, where Martina McBride performed, and it was a concert like no other! Martina McBride came out and made a connection with the audience like I've never seen in over 200+ concerts I've attended. Ticket prices run between $20-$40 (depending on the artist). You can also opt for the VIP Experience which includes a meet and greet with the artist, a photo, champagne reception and seats in the first three rows – an additional $100-$150 depending on the artist. Totally worth it.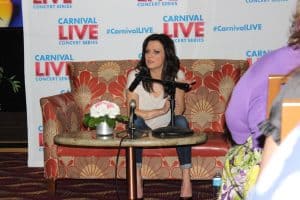 Martina blew the roof off of the 800-seat theater and said she told us she had a chance to connect with the audience in a way she hasn't in a long time.
Final thoughts
Book your Carnival LIVE experience before you board. Depending on the artist, it could sell out. On embarkation day there were only 24 tickets left.
The VIP Experience is worth the extra cash. Not only do you get to sit in the first three rows, you get a meet and greet with the artists, a photo, a Carnival LIVE lanyard and champagne with the artist.
Bring a camera, flash photography is prohibited but you can take photos.
Come early, stay late. If you are not doing the VIP Experience, the seating is general admission so there isn't assigned seats. The artist(s) will do an encore so no need to rush out of the show when they leave the stage the first time.
If you're a music lover, you need to check out a Carnival Live cruise. It really does put you face to face with the artists.
Clip from her performance in Cozumel on Carnival Ecstasy:
To check out more on Carnival Live, visit: https://www.carnival.com/carnival-live