Legendary travel writer Arthur Frommer has seen the future of cruising… and he is not happy about it. In a recent column published in the Corpus Christie Caller Times, the 87-year-old whose name is synonymous with travel guides railed against Carnival Corporation's soon-to-be-rolled out, industry-changing Ocean Medallions. In fact, Frommer insisted that the technology would reduce cruisers to "a defenseless, money-spending robot whose caution can be overcome by electronics."
Out With The Old…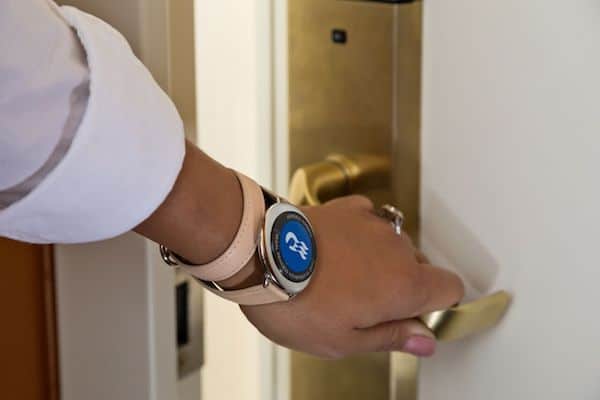 Apparently perceiving the technology – which is very similar to Walt Disney World's MagicBands – as some kind of Orwellian attempt at mind-control, Frommer spins a conspiratorial web which extends all the way to private islands such as Princess Cays, designed in his opinion to "confine your extra spending to products acquired by the cruise line." While there may be a bit of Business 101 truth to that, he goes on to suggest that all cruisers set sail "for the purpose of visiting foreign islands, populated by a foreign people of a distinctive sort" and that they instead are sent to "a private beach fenced in by barbed wire," as if visiting these resorts is akin to being dropped into a war zone which happens to feature bar service.
Someone get this dude a Bahama Mama, stat!
The author's old-school take on life also apparently extends to how we spend money. Frommer makes it clear he is quite uncomfortable with cruisers having the ability to "wave your medallion at a clothing item and casually buy it," making me wonder if perhaps he is unfamiliar with the concept of credit cards, which the Ocean Medallion is simply an extension of.
His unspoken but obvious belief that cruise lines hope to bring in more money by making it easier for a passenger to spend is entirely accurate. That is also true of pretty much every business on the face of the planet. There's a reason the McDonald's cashier asks, "Do you want fries with that?" (And it is not because they are deeply invested in satiating your potato-related desires.)
… In With The New
It is in the piece's final line that we get to the heart of what truly irks Frommer about all this new-fangled technology. After suggesting you forgo the mainstream, popular cruise lines in favor of a more expensive "upscale" option, he ends by saying that only in this way will you be able to "enjoy a cruise as they used to be."
You know, before those dang kids with their water slides and zip-lines ruined everything! In this single sentence, he seems to essentially be outing himself as just another aging guy who wants to turn back the hands of time. To be fair, message boards are filled with like-minded individuals who miss the days of hot-and-cold running lobster tails and formal nights that required black ties.
What Frommer seems unwilling to acknowledge is that while there are plenty of places where folks looking to experience old-world class and elegance can continue to do so, the cruise industry has evolved. The modern American cruiser has the option of setting sail for the foreign lands of which he so wistfully speaks, but they also have the ability to simply enjoy a week in a floating hotel which offers them a wide variety of activities and amenities. I've encountered more than a few cruisers who never stepped foot off the ship, their only encounter with "foreign people of a distinctive sort" being their interactions with their room steward.
He also fails to take into account that the two forms of travel are not mutually exclusive. A first-time cruiser might be more comfortable sticking close to home (relatively speaking) to see if they enjoy the experience before taking a voyage to Cuba or Rome. After all, the first time one gets behind the wheel of a car, they're a lot more likely to drive around the block than they are to mount a cross-country trek.
Ultimately, Frommer might want to get comfy with the technological advances being made across the cruising industry, because it seems likely that they eventually will become the norm… even on his beloved, upscale ships.