Sailing across the Atlantic has all the makings of a remarkable travel tale, and when you have the opportunity to experience such a spectacular journey aboard an historic luxury cruise liner, amidst an opulence you can scarce dream up, you may never want to see land again! If sailing from South Hampton to New York City or vice versa never made it to your bucket list, you are long overdue a rethink. Forget, for a moment, the intensity of a port-driven itinerary, leave the horizon in your wake and lavish yourself with all the elegance, affluence and enrichment that Cunard's five star service provides.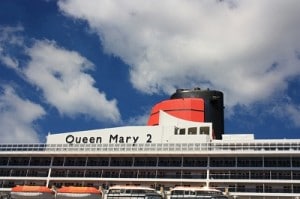 You may have your heart set on curling up in your well-appointed stateroom and getting lost amidst the pages of a good book for the duration of your crossing, however, with the Queen Mary 2's fourteen decks of meticulously burnished decor, an impeccable White Star Academy trained staff ready to cater to your every whim, dining so delectable that choosing will be the most arduous decision of the day and an activities list that will have your heart and mind singing, Cunard will have you enraptured.
Was your journey to meet Cunard a harrowing one? Melt those travel woes away with a full day of pampering at the Canyon Ranch Spa. Distinctive for its deep philosophy on health and well-being, treat yourself with one service, or spend a full day on your transformation. Return to your stateroom and get gussied up for a celebratory cocktail in the Veuve Clicquot champagne bar, followed by an unforgettable evening of Cunard's renowned White Star Service in any of the four main restaurants. If you have more than just a maiden transatlantic journey to celebrate, then experience the culinary mastery and trademark dishes of the Todd English Restaurant; with six restaurant options to choose from, it's a new and exciting dining experience every night!
The nights aboard the Queen Mary 2 are anything but boring. Once you've wined and dined, you may want to step outside for some fresh sea air and little stargazing. Or join honored guests in the Recital Room as a classical pianist tickles the ivory while you sip away at any of the 340 fine labeled wines on offer. If the piano is a tad too demure for a toe tapper like yourself, and you feel like channeling your inner Ginger Rogers or Fred Astaire, step onto the largest floating ballroom at sea and get delightfully lost in a night abundant with glitz and glamour. If being entertained is what you're after, sit back and enjoy award winning productions at the Royal Court Theatre.
Hungry for knowledge? Wander into library boasting some 8,000 books, sit in on a brilliant workshop put on by London's Royal Academy of Dramatic Art or enjoy a Maritime Quest self-guided audio tour and learn about the rich history of the Queen Mary 2.
Transatlantic cruising aboard Cunard Cruise Lines is an experience you will soon not forget, and with a plethora of options to keep you busy, your days at sea will sail by faster than you would like. The only way to sate that thirst for life on the seven seas, is to come back and experience it all over again.
Photos courtesy of flikr user 'Salad-or-Soup'.

Subscribe to our Cruise News Updates.