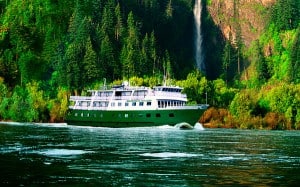 I came across this video earlier today and it really sums up what InnerSea Discoveries is all about. If you don't know, Inner Sea Discoveries is small-ship cruising, primarily focusing on Alaska. Their excursions are all endurance-built and about destination immersion.
One of their newest additions is the 76-guest Wilderness Explorer that touts a spa, a swim up platform on the ships main-deck, local beers on tap, and expanded public areas.
There's no doubt about the demand for active, hands-on explorations in Southeast Alaska," said Dan Blanchard, CEO.  "We quickly sold out our first season. This ship fits in nicely with our fleet, and we are starting renovations now to add new amenities and spaces fitting our style of active adventures."
Last year I had a chance to talk to Dan Blanchard, CEO of InnerSea, you can hear the interview here.
Source: Doug Parker/Cruise Radio
Video: InnerSea