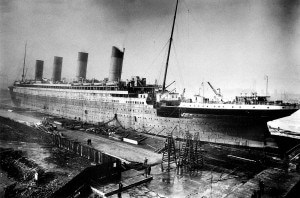 Aussie coal tycoon Clive Palmer insists that he has learned from the Titanic's previous mistakes. In 2016, the billionaire chairman of shipping company Blue Star Line plans to set sail in a replica of the 1912 cruise liner. He revealed plans Tuesday, February, 26 at a press conference at the Intrepid Sea, Air & Space Museum in New York.
About 1,500 passengers died when the original ship collided with an iceberg. Palmer echoed Cunard's claim in 1912 that the Titanic would be the fastest, safest ship in the world. The businessman plans to sail the ship from Southampton, England to New York, shadowing the original ship's intended path.
Inside The Titanic II
The new Titanic II will be 883 feet long and weigh 55,800 gross tons, according to USA Today. The ship will carry 2,435 passengers and 900 crew members. The Titanic II boasts it will be as luxurious as the first, with a swimming pool, casino, gymnasium, theater, squash court and Turkish bath. The ship will be styled in the same early 1900's luxury way. Crew will dress in garments similar to the original. Although Palmer wants to recreate the full ambiance of 1912 luxury, modern amenities like air conditioning and, possibly, Internet will be available.
In May 2012 there were reports that Palmer had commissioned a Chinese shipyard, CSC Jinling Shipyard, to recreate the ship.
On Board
Palmer has said that  40,000 potential passengers have expressed interest in tickets for the ship, according to ABC. The billionaire also claimed that people have offered up to $1 million to the tycoon to be aboard the ship's maiden voyage. With the history of its predecessor, cruise insurance might be a good idea.
What the Public Thinks
Critics note that now is probably not the best time to attempt to convince people that a Titanic II will be unsinkable. In February the Carnival Triumph broke into flames and 4,200 passengers were towed to shore. This month also marked the one-year anniversary of the Costa Concordia wreck, where the luxury liner crashed off the Tuscan coast killing 32 people.
Some think the idea of a Titanic II is disrespectful to the people who experienced the actual disaster. Others think it is just a novelty. As professor emeritus of education at Widener University in Chester, Pa., and Titanic expert J. Joseph Edgette told USA Today, the primary purpose of the original ship was to carry cargo, not to be a cruise ship. He also mentioned it is a "little tacky" to name the ship after one lost at sea.
Descendants of some of the ship's original passengers told USA Today they were not offended by the idea, and do not think their late relatives would be.