Today I woke up the first time at 3:30am but only because my body thought it was 7:30am (still stuck on east coast time). I managed to go back to bed and wake back up again at 6:00am. I walked into town from the hotel, which is about a five-minute walk to the cruise pier, and met the tour guide. My excursion, the Best of Juneau, was one I booked through Viator and offered a visit to Mendenhall Glacier, Whale Watching and a Salmon Bake. You had me at Salmon bake!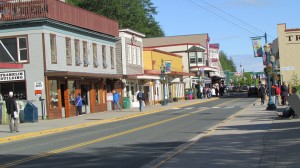 Last time I was here I did the glacier walkabout and hike via a helicopter. I figured I'd stick to something a little more grounded this time. After all, I've never had salmon in Alaska or went whale watching.
We met at the Juneau visitor's center at 8:45am and boarded a cool hummer for Tongass National Forest. On the way to the glacier we received an excellent tour about the area from our guide Tom. Mendenhall Glacier is about 15-minutes from downtown Juneau and was stunning. Standing there at the wall of glacier looking up at it makes you have a new respect for nature. The Mendenhall Glacier is currently retreating so if you are planning on coming to Alaska, make sure it's on your list!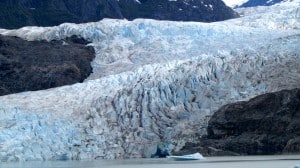 After the glacier we took a ride over to Auke Bay to board our vessel to go whale watching. We boarded a steel hull vessel with about 30 other folks and took to the open waters. The ride out of the bay took about 20-minutes but there was plenty to see once we got out there. I could tell by all the other whaleboats in the area that there was going to be plenty of activity, I was right. We stayed out a couple hours checking out sea lions and humpback whales. You will definitely want to bring your binoculars, camera and a sweatshirt for the whale watching. There's an open deck of the boat that's perfect for taking pictures but it can get a little chilly depending on the time of the year. After we returned from our whale watching adventure we took to the motor coach for a salmon bake.
The ride to the salmon bake took about 15 minutes and not having breakfast I was drooling when I thought about the salmon cooked over an open flame. The salmon bake was like a private oasis. There were a few different stations around where you could get salad, clam chowder, salmon station and dessert. I grew up on a fishing harbor and this was one of the best pieces of cooked salmon I've even eaten.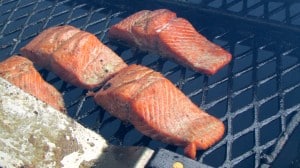 This is my second time to Juneau and probably the best time. While there's a lot to do in the area you have to make your most of it, especially if you're are coming by ship (you usually only have eight hours). This tour made it easy to experience three things Alaska is known for in one day. The Best of Juneau shore excursion provided insight into a lot of Alaska.
You can check out more details of this excursion at Viator's site.
Related articles