Want to know why I love cruising out of Miami on Carnival Cruise Line? You can actually check in for your cruise – in this case, I was sailing on the Vista – at the airport. And when I say check in, I mean that you can do everything from filling out your paperwork to getting the picture taken that you'll be ID'd by all week. It's fast and easy, and once I was finished checking in, I was told that my room key would be waiting for me in the mailbox outside my stateroom door when I got on the ship.
It took exactly 20 pretty painless minutes to get from the airport to the cruise port via shuttle. Because there were two different ships sailing that afternoon, we had people from both Vista and Splendor on the shuttle. Upon arriving at the port, it looked like a real mess, complete with a line that stretched around the terminal building. But thanks to the fact that I'd already checked in at the airport, I was able to bypass the line, go straight through to security, and board the ship. (Told you checking in at the airport was amazing!) While I do sometimes check bags, this time I opted to just carry everything on myself. Long story short: Thanks to having already checked in, it was about 10 minutes from curb to boarding.
All Aboard
Once onboard, I headed straight to my stateroom so I could unpack my bags and get this vacation started. There's tons of storage space in the cabin, including three different closets. Plus, the beds are high enough that you can slide your suitcase right underneath. This is becoming more and more common on ships, and it really does create much more space in your closets, what with not having to stuff your empty bags in there (and then hope they don't fall out every time you open the door!)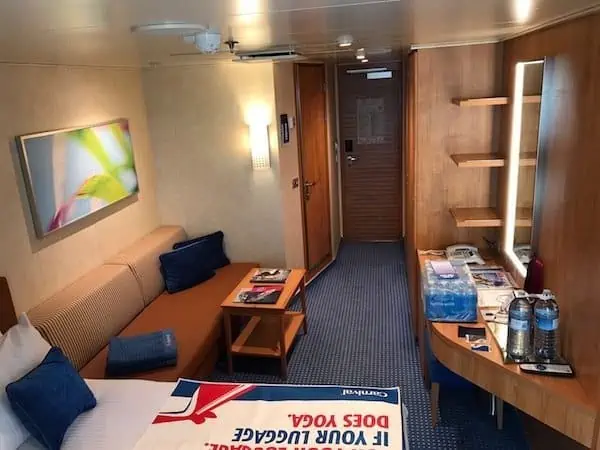 My cabin is on deck nine, on the starboard side and toward the back… and overlooks the Guy's Pig & Anchor BBQ smokehouse. Given that it's a place I'll likely hit more than once during the trip, it's nice being able to step out onto the balcony and look down to scope out the line situation.
I'd checked out the Carnival Liberty's BBQ joint – which is not associated with Fieri – back in March, so I was interested to try Guy's version to see how they compared. After perusing the menu, I went with the Championship Grilled Chicken, baked beans, and collard greens. There were a whole bunch of other options, more than a few of which I'm sure I'll try in the days to come. After all, I want to write a review later on, and it wouldn't be fair to you guys if I didn't make sure to try everything, right?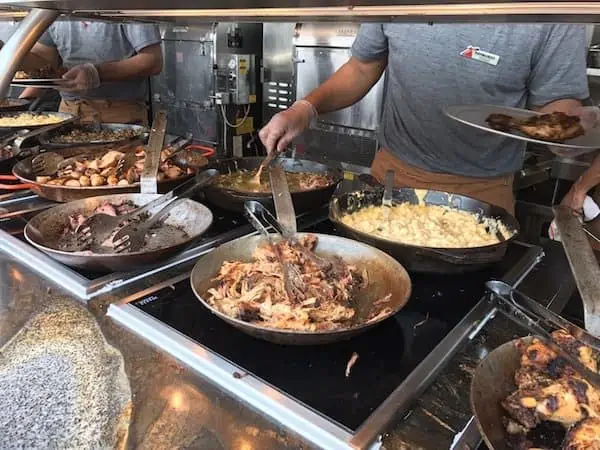 Let's Get This Party Started
I have to say that the Cruise Director on Vista, Matt, is a riot. He is without doubt one of the most animated cruise directors I have ever had the pleasure of sailing with. He was on this ship when it debuted in Europe last May, and it's no wonder that his sense of humor, commitment and energy have earned him a plethora of fans. There's a fine line between being the kind of cruise director who is a blast… and one who takes things a little too far and winds up coming across as cheesy. Matt is so good at his job that you'll find yourself wishing he could somehow be on all your future sailings, no matter what ship you sail on. Thanks to him, the sailaway party was a blast. And we all know there's nothing like a great sailaway party to get your cruise started on the right note!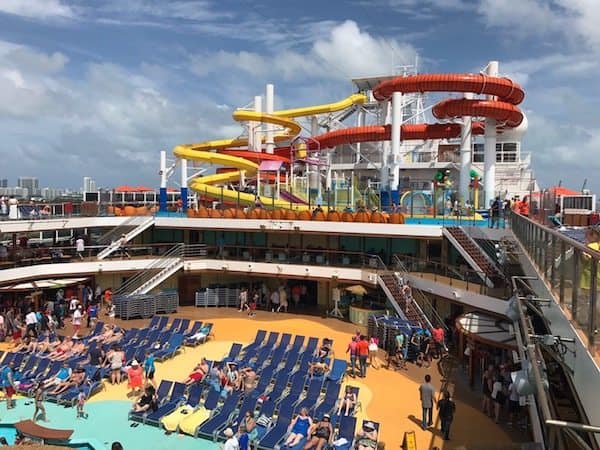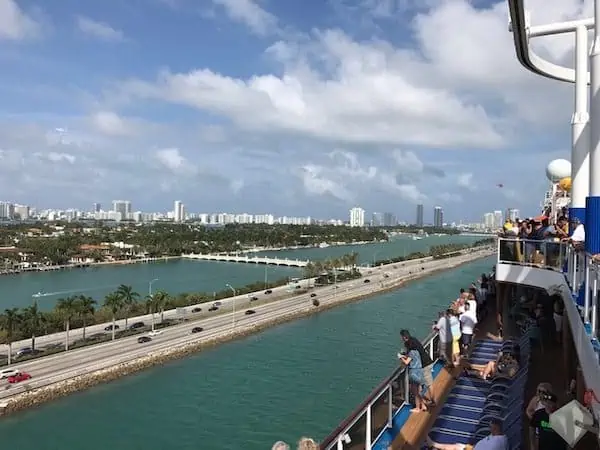 What's For Dinner?
Tonight I hit the ship's Italian venue, Cucina del Capitano. Now, we all know that most Italian meals are chock-full of carbs. And since I've been doing my best to watch my weight – and I'm determined not to put on the notorious 10 pounds we cruisers often wind up taking home as a souvenir – I went with the relatively healthy and really delicious grilled salmon. (I want you to remember that and cut me some slack when I make the inevitable visit to Guy's Burger Joint later this week.) For dessert, I went with the lemon sorbet… but also had a couple bites of my friend's tiramisu, which was amazing. It's times like this I wish I could still eat like the fat kid I once was without becoming the fat guy I work hard not to be!
Making the Rounds
As I mentioned yesterday, I joined a roll call for my Carnival Vista sailing on Facebook, some members of whom had made plans for an informal get-together at the RedFrog Pub. Putting some faces to the names from the group – and doing so in one of my favorite Carnival watering holes – sounded like a great way to spend a little time after dinner. It actually gave me a chance to meet a travel agent named Becky, who was on the Carnival Elation when I was onboard the ship taking pictures a few months ago, proving yet again what a small world it really is.
Afterwards, I headed over to the Alchemy Bar for a nightcap with a few friends. For those not familiar with the venue, it features well-trained mixologists whipping up some incredible cocktails. Don't come here looking for a soda or a glass of wine, this is a cocktail/martini bar. And while you'll find folks who spend many hours hanging out here, I usually think of it as a great place to either meet up with people for a pre-dinner drink or swing by for a last-cocktail-of-the-night visit, as was the case tonight.
Coming Up
Tomorrow is a sea day, which means there will be a whole lot of activity taking place on the Lido Deck… including auditions for the Lip Sync Battle, the actual finals of which will take place on the last night of the cruise. Knowing it would be a busy one – they don't call it a Fun Day At Sea for nothin' – I called it a relatively early night. But be sure to check back tomorrow to see how those auditions went, and what else we wind up exploring!
Don't miss a day of my fun!