Once my body finally kicked the jet lag, I was able to face the day. There was an open-seating breakfast from 7:00 to 9:00 this morning in the main dining room. The feel of the meal was very French, with an array of eggs, sausages, croissants, cheeses, meats, and fruits.
Today was the ship's christening. While with ocean liners we basically always know to call it a "ship" as opposed to a "boat," I'm never really sure what the rule is where the smaller vessels used on river voyages are concerned, but I'm going to stick with "ship." The dockside ceremony was simple and heartfelt. Because CroisiEurope is a family owned and operated line, the family was here to christen the ship. The mayor of Porto, Portugal and the tourism director were also in attendance, and a nice reception immediately followed the ceremony.
You can read more about the christening here.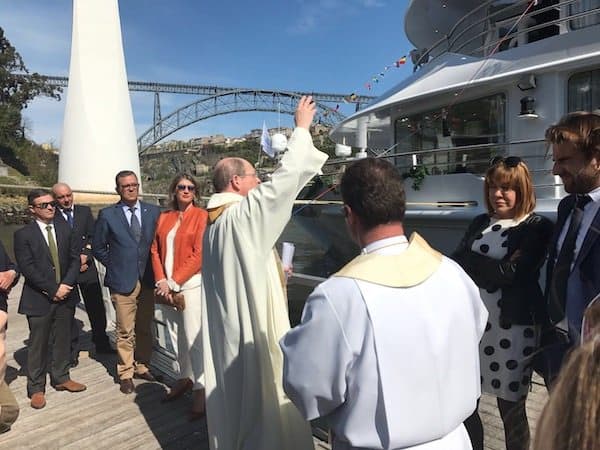 My Cabin
Yesterday, I was too tired to do anything more than promise that more details on my cabin would be forthcoming, so let's do that now. My stateroom is on deck three, midship. I didn't know what to expect when I got into my cabin, because as anyone who's done river cruises knows, the staterooms can be a little all over the map. Some tend toward what might be called gaudy elegance while others are simple enough to appear furnished by IKEA. In this case, the cabin is comfortably casual, featuring lots of wood and muted colors. There is a standing wardrobe-type closet, a writing desk and chair, a basic bathroom, and two plugs. (Glad I remembered to bring my converter with me.)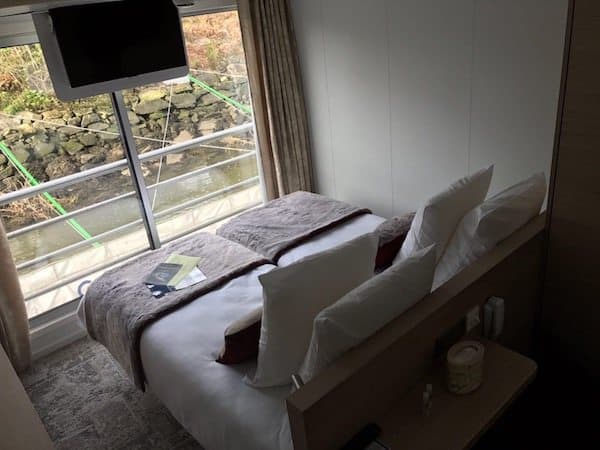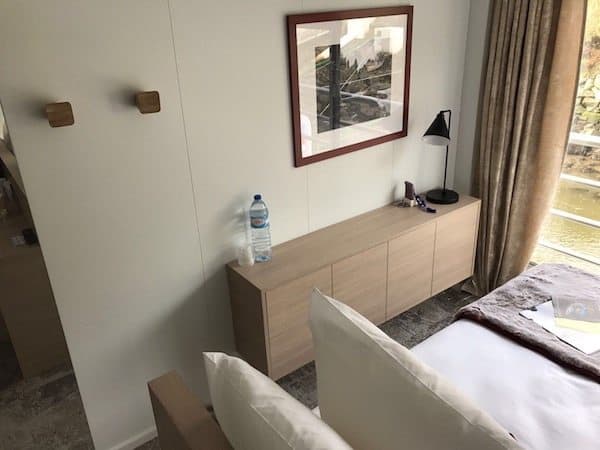 The real highlight of the room is the floor-to-ceiling windows, perfect for laying in bed while watching the scenery pass by. Cabins on the second and third deck have French balconies, and I've found myself keeping the sliding window open and enjoying the fresh air. This is pretty much the definition of relaxing.
You can find more photos of the ship here.
Dinner Time
Unlike on a cruise ship, where you can find something to eat at pretty much any hour, dinner on the Miguel Torga is more like eating at your mom's house: You eat when dinner is served, or you find something to eat on land. Think of it as really traditional dining, with one seating for dinner, which is similar to just about every river cruise I've done.
So what was for dinner? A shrimp appetizer, beef with carrots, a cheese dish, and a homemade cake, all of which was good. Truth be told, I'm more a meat-and-potatoes guy than a foodie, so while food rarely wows me, I can appreciate the effort and presentation of everything that was served.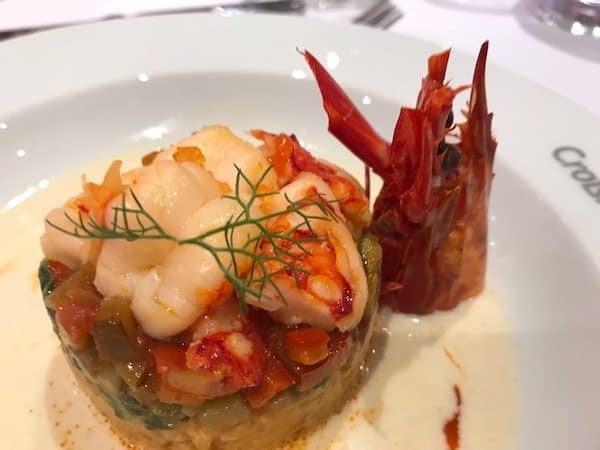 After Dinner Tour
Unlike on cruise ships, most tours are included in the cost of a river cruise, with the exception of premium tours. Tonight we enjoyed a panoramic view of the city of Porto, Portugal, which — while picturesque in the daytime — was stunning to see after dark. We stopped at a couple of different observation points, did a brief walking tour, and visited the train station. The Dom Louis bridge, found at the heart of the city, was designed by Gustave Eiffel… aka the same man responsible for the Eiffel Tower in Paris. The familial resemblance between the structures is pretty easy to see.
Later in the evening, we took the river ship for a test drive, heading out to the mouth of the Atlantic Ocean before turning around and returning to the dock. There was a noticeable difference in the air temperature on the ocean as opposed to the river. As a reference point, New York is due west of Porto, Portugal.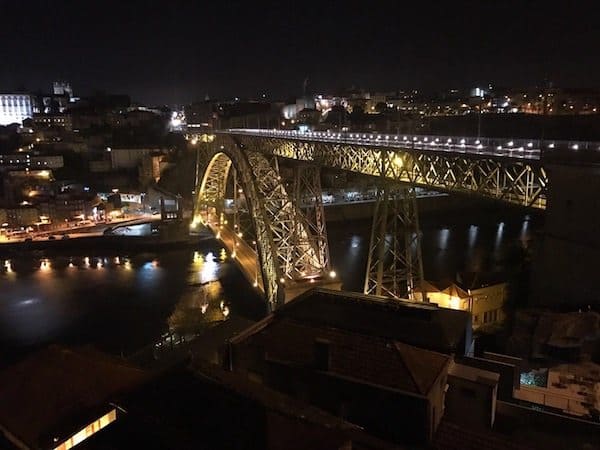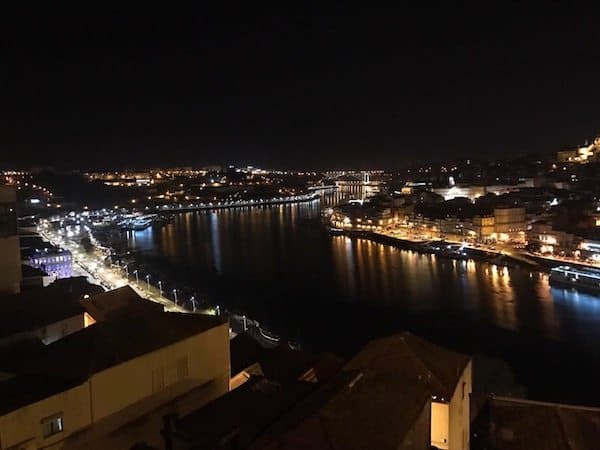 Looking Ahead
Tomorrow morning we leave the dock at around 7:00 a.m. and head for our first port of call. As would happen on many rivers, we'll transit through a series of locks designed to raise or lower a ship so that it can more easily navigate sections of the river that, due to the terrain, would otherwise be nearly impossible for them to travel through.
Goodnight.