Day two of my trip on Holland America's Eurodam started with a walk up to the Crow's Nest Lounge to do a little work. While this amazing spot, with its panoramic views and variety of seating options, is a hopping spot on any given afternoon or evening, that's not exactly the case at 6 a.m., which is when I headed up there.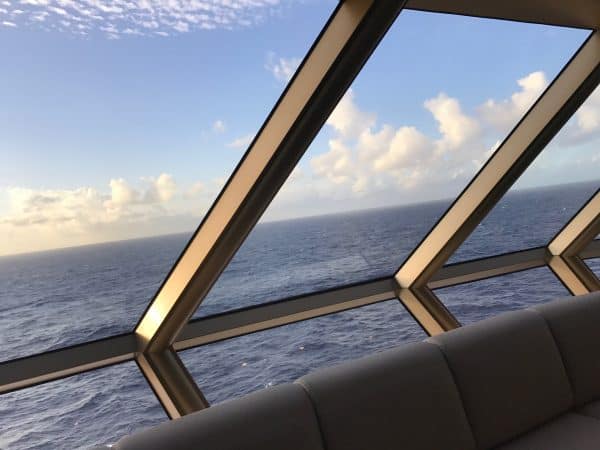 The ship started to wake up around 8:30 a.m., which is when my friend tapped me on the shoulder and twisted my arm — not that it took much effort — to go down to the Main Dining Room for breakfast. While I rarely take the time to sit and have breakfast at home, I'm a big fan of having someone start my day off right by serving up a nice morning meal on a cruise.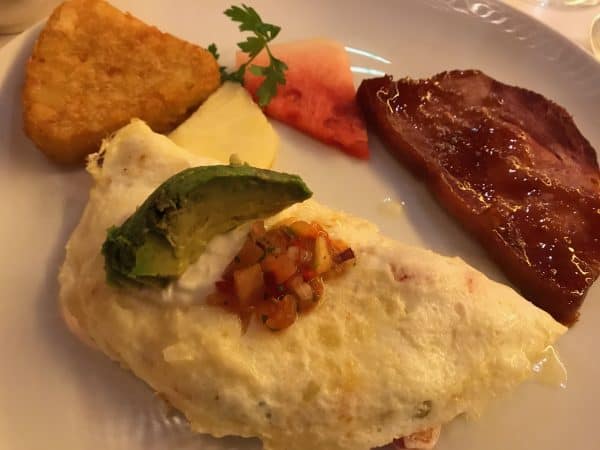 The Kind Of Day Cruisers Dream About
After breakfast, I strolled outside for what promised to be a picture-perfect sea day. You know those days when there's a slight breeze pushing fluffy clouds across a blue sky, and all you wanna do is find a deck chair and watch the world go by? That's the kind of day this was. Heading down to the Promenade Deck with my book, I settled in and relaxed for three solid hours. Again, not something I get a lot of opportunities to do back home. Next thing I knew — surprise, surprise! — it was time to eat again! Funny how that happens, huh?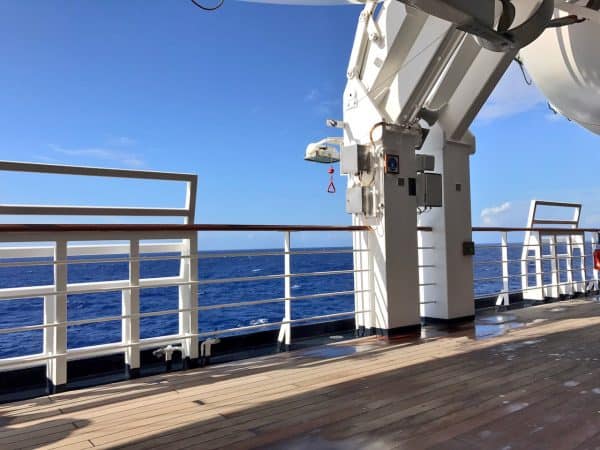 Eventually, I made my way to the aft of the ship to enjoy the early part of the afternoon. And I'm glad I did, as the weather started to deteriorate as we headed toward evening. Fortunately, there were plenty of activities going on inside to keep everyone occupied, including trivia.
Now, I'll admit that I enjoy trivia more than I probably should given that I'm not particularly great at it. (I've only one once, and that was a country music trivia contest on board the Carnival Vista. If there's one thing I know, aside from all things cruising, it's country music!) Today's trivia questions were not, sadly, about country music, or even cruising. In fact they were hard enough that I only got 8 out of 16 right. Life lesson: Next time, team up with a big group. The more the merrier… plus, the more the better the odds of someone actually knowing the answer!
We headed back up to the Crow's Nest at 4 p.m., but this time it wasn't so I could work. The lounge was hosting happy hour, which meant buy one drink, get a second for $2. Needless to say, we hung out there for a while!
On most Holland America ships, they have a destination specialist on board whose whole job is to provide you with information about the ports you'll be visiting. They know the ports inside and out, and they offer great suggestions about what to do (and sometimes, just as importantly, what not to do!). On this Eurodam sailing, our destination specialist was Eve, who proved to be a great resource. She was also super helpful when it came to coordinating my plans to fly home from St. Thomas later in the week. Since Eve is actually from St. Thomas, I was able to hit her up with all my questions. And I had a lot of them, given how many options there are when it comes to things to do in St. Thomas.
A Must-Try Meal On Board The Eurodam
When the time for dinner rolled around, we headed to the Asian Fusion restaurant, Tamarind. As I mentioned yesterday, I'd made reservations in several of the specialty restaurants. I have to say, this was one of the best meals I've had at sea in years. I'll be writing a full review of the venue once I'm back home, but all you need to know for now is that it was worth every penny of the $25 per person charge, which gets you everything from sushi to wasabi crusted beef tenderloin and seared lobster.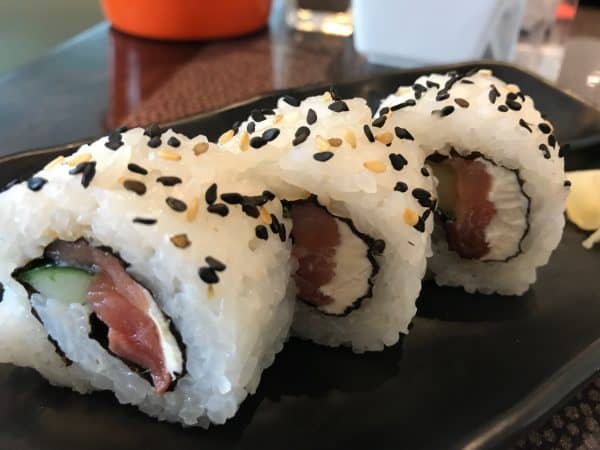 They strong recommend reservations, and I can see why this place fills up fast. I've been looking forward to the Pinnacle Grill steakhouse all week, but I have to admit, this is going to be a tough meal for even that to top!
Tempting as it was to make the rounds and see what entertainment was on tap, I wanted to make an early night of it as we're hitting Grand Turk tomorrow. While we don't really have a plan in place, I want to get a feel for how the island is doing in the wake of the hurricanes which struck a few months ago.
So until tomorrow… goodnight!