This week, I'm setting sail on Holland America's Eurodam, and it's one of those great times when I get to combine business and pleasure. On the one hand, I'm on a cruise ship, and that's always a pleasure. On the other, with cruise ships now returning to the islands that were hit by hurricanes a few months ago, it's sort of my job to fill people in on how the recovery is coming.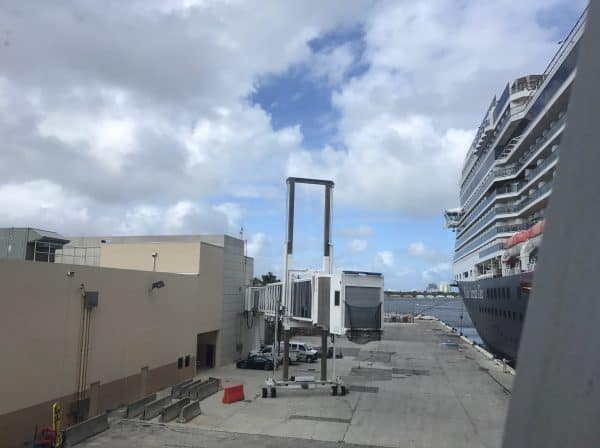 So this morning, we drove from Jacksonville to Port Everglades to board the Eurodam for a cruise that will include a stop in St. Thomas, one of the most popular ports among Caribbean cruisers. It also happens to be one of my favorite ports thanks to more than a few visits. Among past highlights? Taking the tram to Paradise Point, hopping a ferry to visit Trunk Bay over on neighboring St. John, or just hitting some of the great dive bars in town. So I'm really looking forward to our visit later this week and the chance to check on the beautiful port's progress.
The itinerary for this particular Eurodam sailing includes stops at Grand Turk, Punta Cana (in the Dominican Republic), St. Thomas and Half Moon Cay. Unfortunately, I'm going to have to fly back home from St. Thomas, so I'll miss the last couple days. But that just gives me more motivation to pack as much fun into this trip as I possibly can before the real world pushes its way back in.
Heading to the ms Eurodam
We got to Fort Lauderdale around 11 a.m., with plans to meet my friends — Kristin and Scott — for lunch before boarding. They were going to be doing a two-night cruise on the Regal Princess so they could test out the new Ocean Medallion technology. Lunch wound up taking a little longer than I expected, and I started to panic. What if we didn't make it to the pier on time? Was I really going to pull a total amateur move and miss the ship? Luckily the Tap 42 Brewhouse is only about 3 miles from the port, so we made it there around 2 p.m. (It turns out that passengers are required to be checked in and on board the ship no later than 3:30 p.m.)
I know most people love getting to the port early (all the better to get on board and start that vacation ASAP), but there are definite benefits to arriving a little later. In this case, there was absolutely no line at the check-in counter or security, meaning we went from arriving at the curb to on the ship in six minutes flat. Seriously, I might have to reconsider that whole "early-to-port" thing if arriving a few hours later means embarkation is this easy!
If you've been keeping track, you'll realize that because it was after 1:30 p.m., our staterooms were ready… which is another benefit to boarding a little later. We have a balcony stateroom on deck six, forward… actually, just behind the navigational bridge. The room is a standard layout with two twin beds, a nice couch in the sitting area and plenty of storage. One thing that I love about a lot of the Holland America balcony rooms I've stayed in is that they have a tub in the shower. That's increasingly rare these days, so it's a nice touch.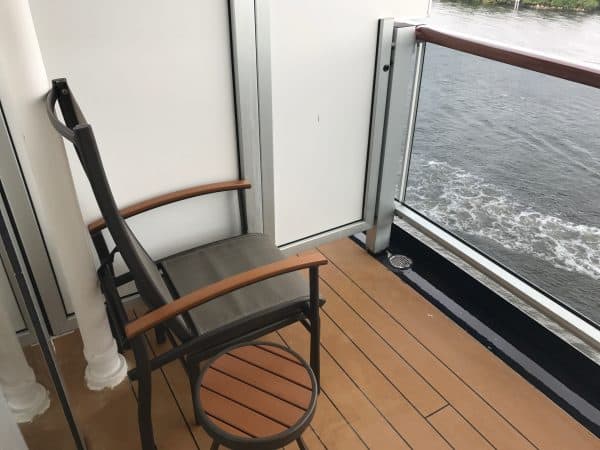 Rain, Rain… Go Away! (Hey, It Worked!)
Thanks to the technology used on board, the dreaded muster drill — and really, does anybody look forward to those, including the crew? — was incredibly short. From the time we left our stateroom to the time the captain dismissed us… 16 minutes. I can live with that.
I've experienced a lot of sailaways over the years, and never once have I had one get rained out. I thought this might be the first, but apparently, I'm a good luck charm, because the clouds parted and we had a perfectly dry sailaway. #TheStreakContinues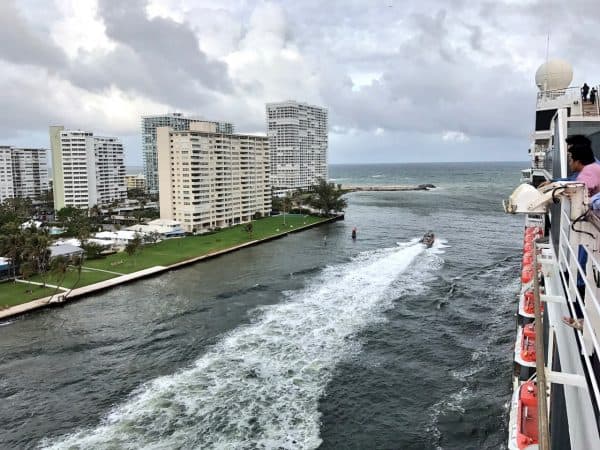 There are three different specialty venues on the ms Eurodam: Pinnacle Grill (the line's signature steakhouse), Tamarind (featuring Asian fusion cuisine) and Canaletto (which is obviously their Italian restaurant), so I made reservations for each of them. While I'm big on doing everything I can to avoid packing on extra pounds on a cruise (and in general), I'm a huge fan of the Pinnacle Grill's 23-ounce porterhouse steak and crab legs. Consider that a preview of my dinner order.
Main dining room-wise, we'd gone with anytime dining, and we both agreed that it was one of the best MDR experiences either of us had had in a while. Whether that was due to the anytime dining program or the fact that we opted to go at around 7:15 p.m., the food was professionally served and tasted fantastic. I went with the French Onion soup, smoked chicken over Brussel sprouts and Creme brulee. My friend opted for the spicy shrimp, and we both agreed everything was spot-on. We all know that some of the cruise lines have cut corners in recent years in an effort to save money, but if Holland America has, I certainly can't tell.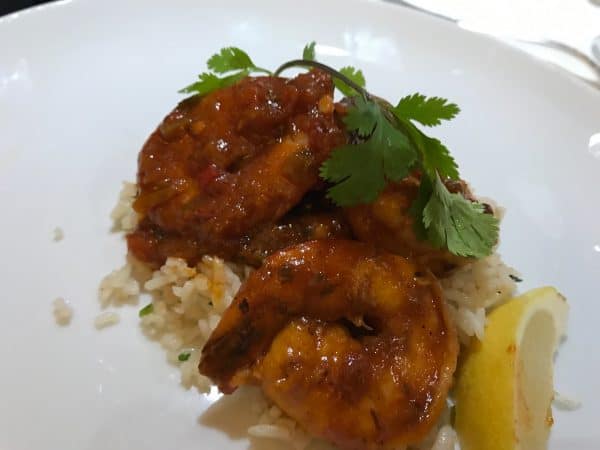 Nightlife on the Eurodam
The Eurodam features a venue called
Billboard Onboard
, featuring a rotating group of musicians. Tonight was dueling piano players who had the crowd singing along as they played a ton of decades-spanning hits (and a whole lot of crowd-pleasing Beatles tunes).The B.B. King Blues Club was also hopping, with a kick-ass band (featuring a killer horn section) that had people on the dance floor and singing along to Motown classics. (I go to a lot of concerts and have noticed more and more touring bands are beefing up their sounds with horn sections. Turns out, I'm a big fan… whether on land or sea.)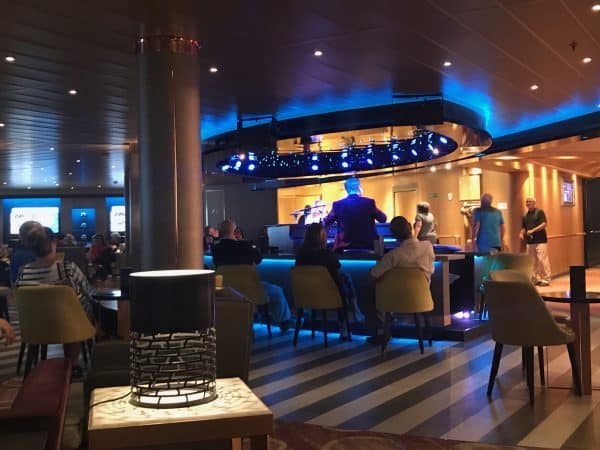 Tomorrow's a sea day as we make our way to Grand Turk (a port I haven't visited since I stopped there while on the Carnival Sunshine back in December of 2015).  One of my favorite places on the island, Jack's Shack, took a beating from two hurricanes earlier this year, and he's finally back open for business. I'm hoping Jack will be there so I can do a follow-up to the piece we ran shortly after the storms… and maybe get a pic with Topher, the world's most photographed dog.
For those keeping track at home, my pre-cruise weight was 169. With all the speciality dining this week, I could derail! Stay tuned…
Goodnight.