When I woke up today, the Holland America Eurodam was pulling into Grand Turk.  I'll admit, I had mixed feelings about the day. Grand Turk has long been one of my favorite Caribbean islands, but it was also pretty hard hit by the hurricanes which struck only a few short months ago. Would the island still be the one I first fell in love with, or would the storm's ravages leave me feeling sad about the fate that had befallen it?
The Eurodam Arrives In Grand Turk
Weather wise, it didn't look like we were going to have one of those perfect days that thoughts of the Caribbean usually conjure up. As we docked, the rain was coming down, and it would remain cloudy and rainy all afternoon. As it turns out, Grand Turk had been experiencing similar weather for a solid week. In fact, several ships had been forced to skip the port because of stormy weather, so we were fortunate in that we'd be able to dock!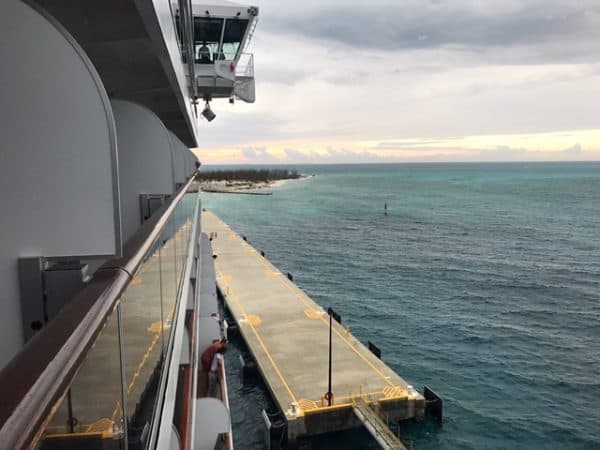 Once again, we headed to the Main Dining Room for breakfast. You know I'm not going to pass up the chance to have someone bring me a delicious meal! This time, I went with the southwest omelette, ham and some fruit. Oh, and coffee. We're talking four or five cups of the stuff. There's something about cruising that really ups my coffee game. At home, I'm what you might call a social drinker, but put me on a ship and I down cups of coffee as if I'm an old man gulping from the fountain of youth. And I'm not someone who drinks it for the boost of energy, either… I just love the taste!
By 8 a.m., we were walking off the ship and down the pier, heading straight for Jack's Shack. Shortly after Irma hit, I was able to talk to the owner of the popular bar about the damage sustained to not only the Shack, but Grand Turk as a whole. Now, I was looking forward to checking in on him and, of course, Topher, the world's most photographed dog!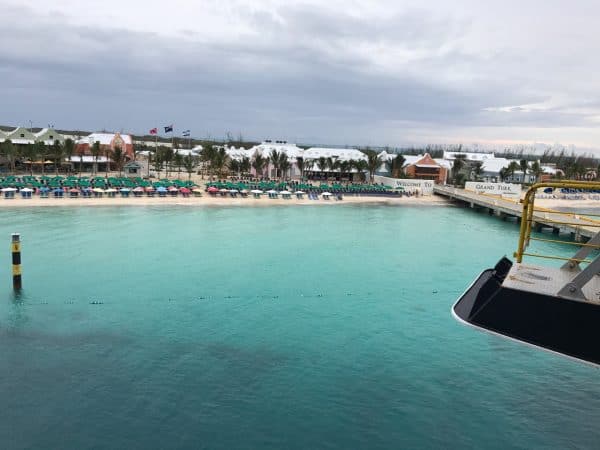 On the short walk to Jack's Shack, you could see that dozens of new palm trees had been planted along the beach. But you could also see that some of the huts were in disarray, with their roofs completely gone and walls knocked down. It was a little disheartening, but there was something almost inspiring in the way that the island is clearly coming together to rebuild in the wake of the natural disaster.
Settling in at Jack's Shack, we got to talk to some of the locals about life on the island, interview Jack and enjoy a great jerk chicken and conch lunch. At first, it seemed as if most of the other customers were off-duty crew members from our ship. But when the Carnival Sensation later pulled into port, the place filled up with locals and passengers alike. To be honest, Jack's has more of a low-key Carnival vibe, which I've always loved… although someone did walk up and ask if the had any caviar and champagne! I assumed the customers were kidding, but it turned out, they weren't!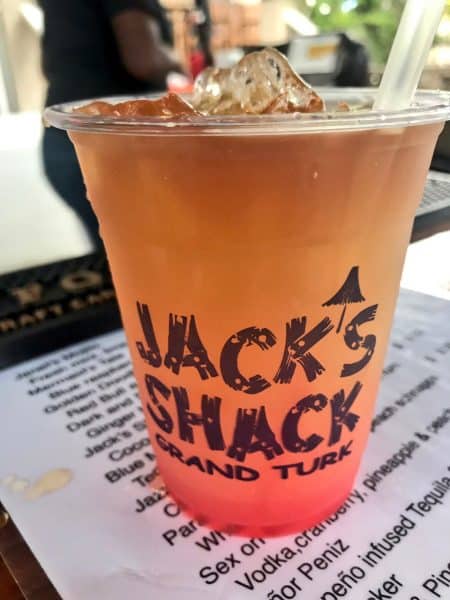 The drinks were as ice cold as the company was warm. Mixed drinks ran $10, and beers were $6 each. That meant prices were a little less than you'll find at Margaritaville, but not much. Speaking of which, we swung by there on our way back to the pool to grab a pina colada. That's the kind of thing I would never drink back home, but when in Rome… or, in this case, on the islands!
We had to be back on board the Eurodam by 3:30 p.m., at which point we got cleaned up for our 7 p.m. dinner reservation at Canaletto.  Before heading to the Italian restaurant, we swung by the shore excursion desk to book our tour for the next day's stop, Punta Canta. Turns out the shore excursion desk was closed, but they had a couple of after-hour options. Weird as it was to see the words "after hours" when it was daylight, we were able to swipe our cards at a nearby kiosk and, via a simple to use system, find the excursions we were interested in and book them.
Dinner At The Eurodam's Canaletto
We'd intended to hit trivia before dinner, but wound up missing it. (Given how poorly we've done so far this trip, it might be for the best!) One place we didn't lose was Canaletto, where for $15 each we had a fantastic meal. The venue itself always throws me off a little, because it's actually sort of carved out of the lido deck. You basically go to the Lido Market — aka the buffet area — to check in before being seated.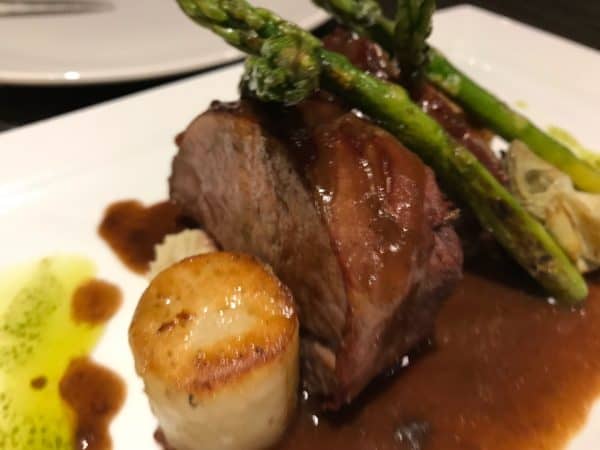 When we sat down and looked at the menu, I'll admit that nothing really appealed to me. And then, I saw the dishes being served to the diners at nearby tables and suddenly found myself wanting to try everything. I'll have a full review coming once I'm home and can digest (pun intended) this entire trip, but I'll say that the beef carpaccio, shrimp ravioli, veal and canoli were all amazing!
I've booked a sail-and-snorkel excursion for tomorrow's visit to Punta Cana, and since it's a tender port, that means meeting in the ship's theater at 8:50 a.m. And just typing that makes me realize I haven't even been to the theater yet. I'm hoping to see a show before the trip is over, but time is definitely winding down! In two days, I'll be flying back to Jacksonville after spending the day in St. Thomas.
Until tomorrow… goodnight!