Trip Report: Un-Cruise Adventures – Behm Canal + Polar Plunge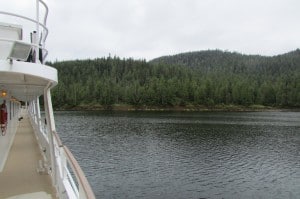 I forgot to mention yesterday that when I was in Wrangell, I called American Airlines to confirm my flights on the way back to Jacksonville – and I'm glad I did. Apparently when I called to confirm all my seats were released and the reservation change I made a week before I left didn't go through at all. No clue why. I am guessing maybe a new agent? She didn't sound very confident when talking to me. After being on the phone for an hour with American we finally (or so I hope) got things squared away. Glad I got that take care of, now back to my Un-Cruise Adventures!
Breakfast this morning was amazing as usual. The bacon on this ship is the best ever. Cooked to perfection and three will literally fill you up.
There was hiking opportunities today and open paddle boarding and kayaking. I opted for the open paddle to start the morning out. The winds always seem to be a lot calmer in the morning and not nearly as windy and gusty as in the afternoon.
I found this new obsession with waterfalls during this trip so after lunch I grabbed my camera and launched a kayak and took a lot of photos of the shoreline, falls and some shots of the ship. The banks of the bay were really cool because there was these cave-type carvings all along the side of the mountain and you could kayak underneath them. I kept wanting to drink the water off the mountain but was too afraid I'd flip my kayak trying — or fill it with water. So I am going to wait til I can actually work the shore line.
It was neat seeing all the bald eagles swarming around, diving and standing proud in the trees along the cove. Also, when we pulled anchor and got underway we went whale watching again. Apparently this is one of the last opportune times to see whales because the further south we get the chances of seeing them diminish.
I saw a couple of harbor dolphins on the underwater bow cam but not much whale activity — unlike the days prior. I am sure I'm still the laughing stock of the ship thinking that a dolphin was an orca whale and freaking out about it.
One of the coolest (literally) things we did on the ship was the Polar Plunge. Picture 38F water and jumping off the back of the ship into the very chilly waters of Alaska. Pretty much our whole crew did it, and live to tell. (photo right)
Tomorrow brings us to Tongass National Forrest.
A listener off our Facebook Page asks: How do gratuities work on Un-Cruise Adventures? Is it like the regular cruise lines?
Gratuities are paid on the cruise fare rate. Typically 5- to 10 perfect of the fare, depending on how much you enjoyed the trip. The leaders and crew gives you what you want and when you want it. They work hard on fitting you for the right floatation devices, will give you one-on-one lessons for any activity and take the extra time with you. It's basically what you want to pay but a guideline I'd use would be five-percent.
Subscribe to our Cruise Updates.
Related articles