This morning I woke up at 5:30am alongside a fuel dock before arriving at our pier, which was the inside dock of the large cruise ship pier. Last night before I went to bed I was talking to the captain about how much fuel we'd take on at the fuel dock and he said approximately 2,500 gallons of fuel. The fuel tank holds 5,000 gallons. I was also impressed on how green the Un-Cruise Adventures ships are. At cruising speed the ship burns around 20 gallons per hour. Compared to the large ships that burn something like eight gallons every 100 feet or something like that (this is per a conversation I had with a captain aboard Celebrity Solstice in 2010).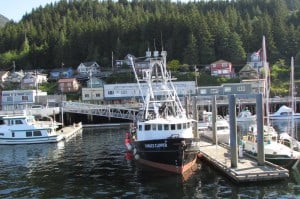 Read our 9 Reasons to sail Un-Cruise Adventures.
We arrived at our pier at 7am and had our farewell breakfast. This is a big day for the ship because they have to turn it around for the next 60-passengers.
One thing that gives the ship some time and that I like is that the embarkation on Un-Cruise Adventures doesn't start until around 4:45pm, giving you time to see the cruise port (see our Things to do in Juneau post) and not have to rush. Since the ship is so small there is no reason to get on there because there's no pool, no tanning area, etc. You'll find the majority of the outside public spaces reserved for nature viewing.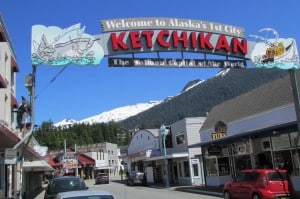 After breakfast they threw the gangway out and we shook everyone's hand and made our way off the ship.
We had a couple of options once we got on shore. Depending on your flight you could take the (included) airport transfer to the airport, head to the hotel reception area to set your luggage aside for the day until your flight leaves or head to an excursion.
I hooked up with Viator and did a 90-minute flight seeing tour of Mystic Fjords. The views of the fjords were amazing!
After the excursion I went back to the hotel to set my backpack down and walked around town taking photos of Ketchikan and checking out all the cruise ships that were coming in. On the day we were there we say a Norwegian Cruise Line, Disney Cruise Lines and Regent Seven Seas ship in port. So four ships total, including us. We were by far the smallest ship in port, the Regent ship held around 700-guests.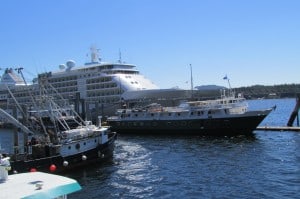 Flying out of Ketchikan was flawless. The airport is very small and the check-in was easy. We depart on time at 6:55p to Seattle, and this beings my long red-eye home. Arriving in Jacksonville tomorrow at 10:15am. Long flight.
Recap
I had an awesome time on Un-Cruise Adventures and would definitely recommend this sailing for anyone who seeks adventure.
You can hear our broadcast taped aboard the Wilderness Adventurer.
Special thanks to the crew and staff of Un-Cruise Adventures for going out of there way and allowing me to tape and record there day to day work in southeast Alaska.
For the rest of our recaps you can check out our Un-Cruise Adventures Trip Report's here.
Subscribe to our Cruise Updates.
Related articles