This morning I woke up really early again. Apparently I can't adjust to this four-hour time difference yet. Today I board the 60-guest Wilderness Adventurer, a one way sailing from Juneau to Ketchikan. The embarkation isn't until 4:45 pm so I had a lot of time to kill, which gave me the opportune time to catch up on some work before I boarded the ship. There will be no internet or cell service for a week when you're traveling in Southeast Alaska. We do have one port halfway, so there's a glimmer of hope.
Juneau, Alaska
There's a local coffee shop caddy corner from the hotel where I got a coffee, a muffin and free internet. Carnival Miracle was arriving into port I walked down to the pier and snapped a couple photos of the ship arriving. Coral Princess and Regent's Seven Seas Navigator was also in port. Three decent size cruise ships brought about 10,000-guests into Juneau.
Lunch was at Twisted Fish where I had cedar plank salmon and chowder, both were good and it ran me about $30. I've always avoided Twisted Fish because I thought it was highway robbery but for the food, portions and location it really wasn't that bad.
The Eastern Coves Itinerary
Juneau, Alaska; Tracy Arm Wilderness, Frederick Sound, Thomas Bay, Wrangel Narrows, Wrangel, Alaska; Behm Canal, Misty Fjords National Monument and ending in Ketchikan.
Check-in
We met at the Goldbelt Hotel at 4:45pm for orientation and check-in before boarding the ship. It was a really laid-back embarkation process. No sign and sail cards, no forms to sign, just check-in and board the ship. After an introduction from ceo Dan Blanchard, who happened to be in town, we proceeded to the ship for embarkation.
First impression
I am going to just be honest and say that I didn't know what the hell to expect when I was going to board. Wilderness Adventurer carries 60-guests, 25-crew, has 30-cabins and 160' in length. The ship looked so small in port compared to the liners docked. When we walked up the gangway our photos were taken and we were guided to our room. We boarded aft and my stateroom was located only a couple of feet away on deck three. Walking through the hallway I knew this was going to be a fun adventure.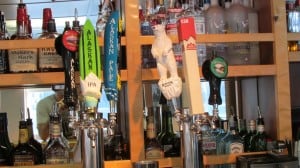 The Stateroom
I am in an oceanview stateroom in what is called a trailblazer cabin. My bed configuration is two twin beds made into a queen size bed. There's an iPod docking station, flat screen tv, four nice size cubbies, six hooks for hanging adventure gear and a compact toilet and shower with the sink on the outside. I am traveling alone but even if someone was with me there would still be plenty of room for all our clothes, gear and space.
Public Areas:
After unpacking, doing the lifeboat drill and getting situated, I went to explore the ship. To my surprise there was quite a few places that I didn't think you'd find on this ship. My floor (3rd deck) is just staterooms and an observation area forward and aft. On deck four there are paddle boards, kayaks, skiffs, hot tub, sauna, a couple pieces of work-out equipment, the bridge of the ship (which has an open door policy) and a covered area to relax.
When you go down to the second deck you have the dining room, main office, bar (with Alaskan drafts on tap), lounge and the main meeting port with nautical charts and the days agenda. With there being so little passengers on board, there aren't any daily guides printed and delivered to your stateroom. Think Un-Cruise. Hence the name, Un-Cruise Adventures.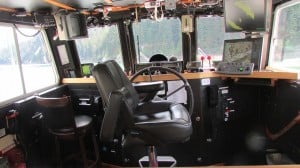 Bon Voyage                          
We cast the lines at 6p and head out for open waters. We left ahead of the big ships (Princess and Regent). Tomorrow we are supposed to hit Sawyer Glacier and North Sawyer Glacier. Both are expected to have heavy calving activity.
Now that I have a taste for Un-Cruise, I'm curious to see what it's all about.
Subscribe to our Cruise Updates.