Dinner on the ship last night happened around 6:30p and was buffet style. I'm not sure if it's always served liked that in the main dining room or it's just embarkation day protocol (turns out it's just for embark day).
It was a low-key evening with a getting to know you with the crew in the forward lounge and a couple of small talks. There is a photographer on this vessel, Amy G, who published a book called Salmon in the Trees. She is the on-board naturalist I guess you could say and will be giving photography and naturalist lectures throughout the cruise. I'm really looking forward to that because I just bought a Canon XL500 prior to the trip and excited to learn how to take the perfect photo.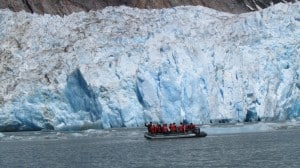 This morning I woke up at 7:30 and we were in Tracy Arm in between giant mountains that were casting shadows on the ships. When I say giant mountains, I mean huge, enormous. We made our way through fields of ice up to North Sawyer Glacier where we were able to get about a half a mile from the glacier before. The Coast Guard likes for us to stay about a quarter of a mile from the glacier, so we didn't get much closer but we got some amazing shots.
After departing North Sawyer Glacier we headed to Sawyer Glacier. We got a little more intimate with this one because we were able to launch the skiffs and pretty much look at it face to face. There was a lot of calving activity on Sawyer Glacier, in fact, I was shooting video and one happened before my eyes and caught it on video (posting later, limited internet). We got to see harbor seals and different types of birds. I personally haven't seen any whales since I've been on board this vessel but others have and shot great photos of them.
We returned on the skiff and had a buffet lunch of pasta and salad, all delicious. After lunch we had a safety briefing for the kayaking, paddle boarding and hiking. I definitely learned about the bear's natural habitat and how it lives in nature. Basically you don't mess with them.
There were two hiking options offered after lunch but I had to opt out of them. I fractured my ankle a few weeks back and I'm still sporting the ankle brace, so this trip will consist of a lot of photography, paddle boarding and kayaking for me. I spent the afternoon shooting photos of Frederick Sound (where we were anchored).
For dinner we had a choice of flounder or steak. I went with the flounder but both were excellent.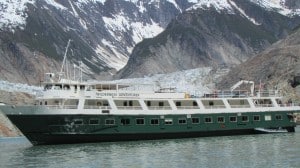 After dinner our on-board speaker spoke on how to take a perfect photo in a session she called "Now shot to WOW shot!" She had some really great advice and gave some awesome ideas on how to take the perfect photo outdoors. The main focus of the talk was on composition, focus and subject. One good take-away was no to be afraid to make mistakes shooting photography. The only way to learn is fail.
The sunset was amazing tonight as it was setting behind the snow-capped mountains.
Tomorrow we have a full day of hiking and kayaking as we head to Patterson Creek, just part of our Un-Cruise adventures!
Subscribe to our Cruise Updates.
Related articles