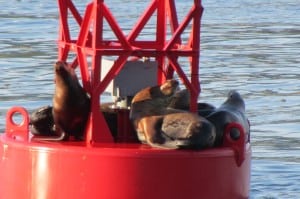 They say you can't get anymore real than Wrangell, Alaska – I tend to agree after spending the day there. Wrangell is a quiet town with less than 3,000 people with the amenities of a small city.
Approaching Wrangell, Alaska we headed down the Wrangell Narrows, AKA Christmas Tree lane. The channel was so narrow that were literally buoys and channel markers as far as the eye could see.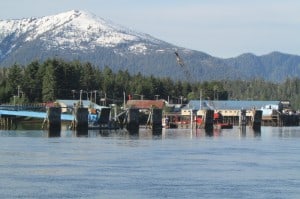 We docked in Wrangell around noon. It was definitely a small town with a strong Native American heritage. I opted to head to the library to file my trip reports and then walk around the town. Some friends went to the learning center to learn about the local culture. Others walked the town.
There was a small beach about a mile from the cruise pier. It wouldn't be a beach per-say but more so a rocky landing area with a boardwalk and pier.
They had a guided kayak tour that was available for folks who wanted to paddle around the bay. I opted out of the excursion.
All aboard was at 5:30p and we departed for the Yes Bay, which is to the south of here. The way the crow flies Ketchikan is about 40 miles from Yes Bay. The further south we get the less likely we are to see whales.
Dinner was seared scallops with kale and a banana pie for dessert, both extremely amazing.
After dinner there was a speaker talking about someone that played a big part in protecting Alaska. I went to bed right after dinner – so I sat the talk out.
Tomorrow we are heading to Yes Bay for kayaking and hiking. Another exciting day on Un-Cruise Adventures.
Subscribe to our Cruise Updates.