Today was one of the best days of my life.
I've had high expectations of Geiranger ever since I saw photos of its beauty floating around the internet years ago. From then on, I was determined to go someday. That day came quicker than expected, and it was our stop today on Viking Sky! It met every expectation I had and even exceeded some, and it was by far the highlight of this cruise.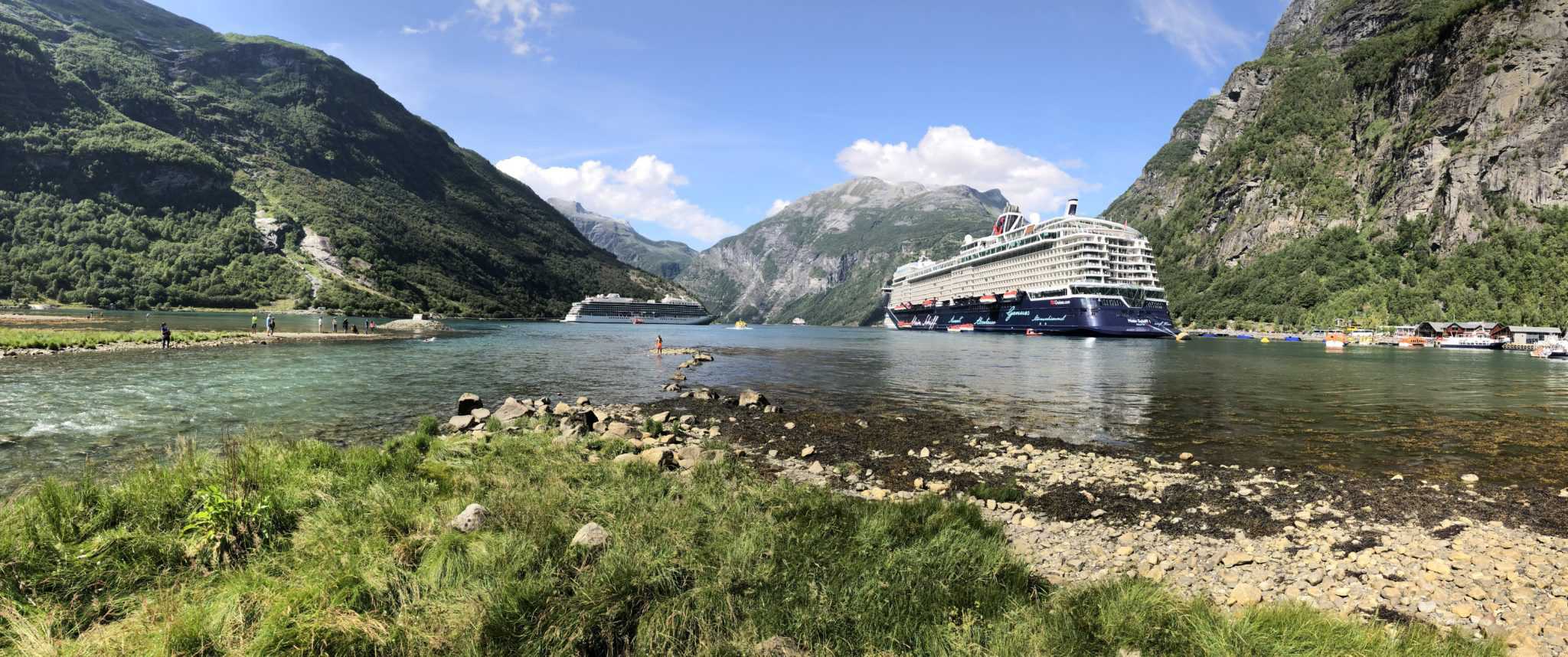 Taking Photos
I woke up at 5:30 am this morning, the earliest I have this entire trip. I wanted to get outside and shoot some footage of the ship sailing through the fjord on the GoPro – clamping it onto one of the top decks and leaving it there a while so I'd have a nice long video that I can speed up into a time lapse later on when I edit. I ended up with about 50 minutes of footage, so I'm excited to see what I can do with it. I also got up that early so I could be out on deck taking pictures with my camera, too. There were a few other people out, and within a good half hour many more showed up. Everyone had cameras around their necks – we all woke up at the crack of dawn for the same reason, and believe me, Geirangerfjord is worth every second of missed sleep. It was absolutely stunning. We passed so many waterfalls along the way, and the water was so blue.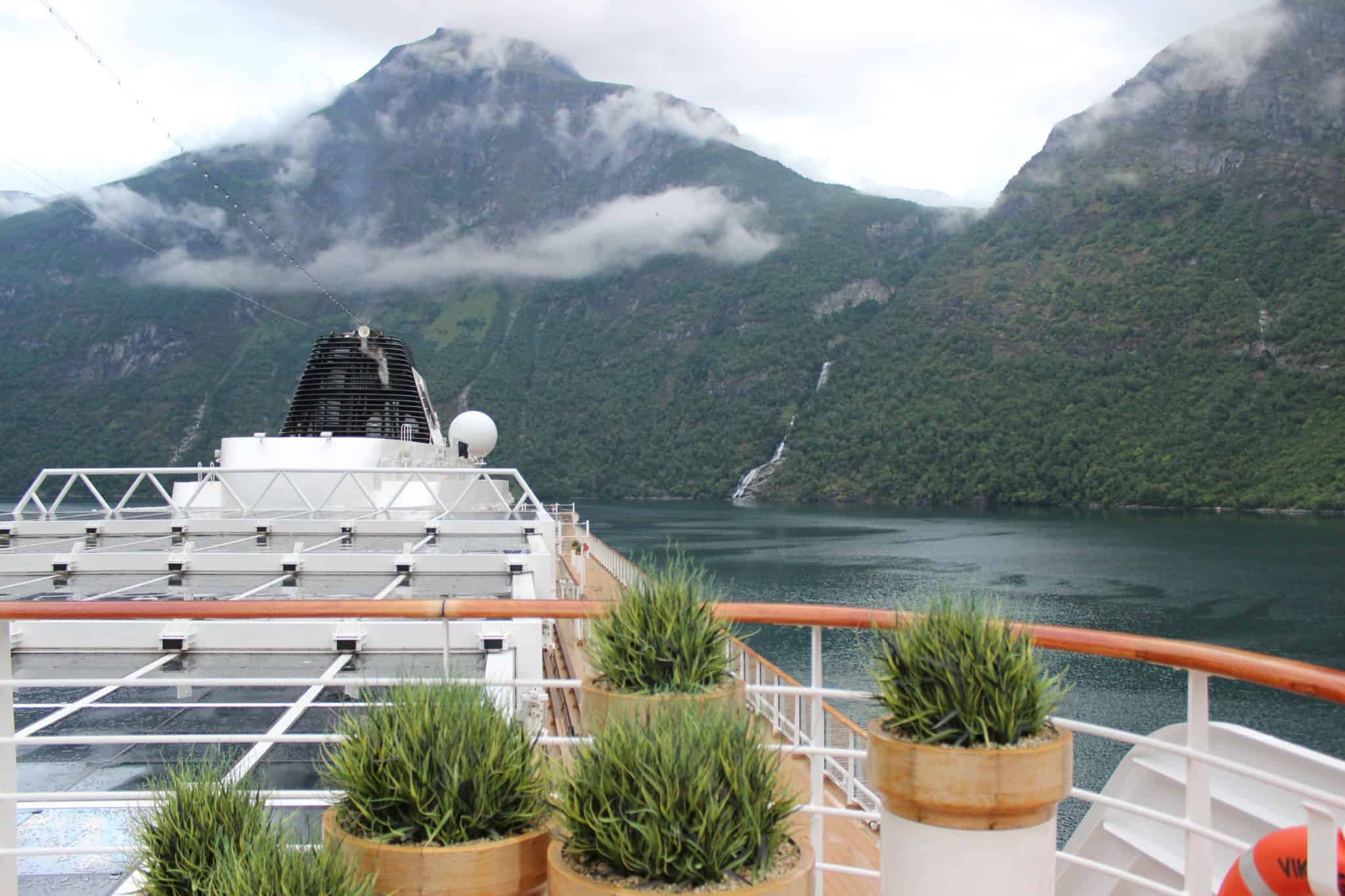 Breathtaking Fjords Tour
After a sufficient amount of photos, I got ready the rest of the way for the day and grabbed breakfast in the buffet. My excursion met in the Star Theater at 8:30 this morning, so I had an early start. I booked the Breathtaking Fjords tour, which was four hours long and had a few more stops than the included excursion. TUI's Mein Schiff beat us to the port, so they got the dock while our ship had to anchor and we tendered to shore. Our first stop of the day was at a lookout point a bit above the town, a classic spot for people to take photos of Geiranger.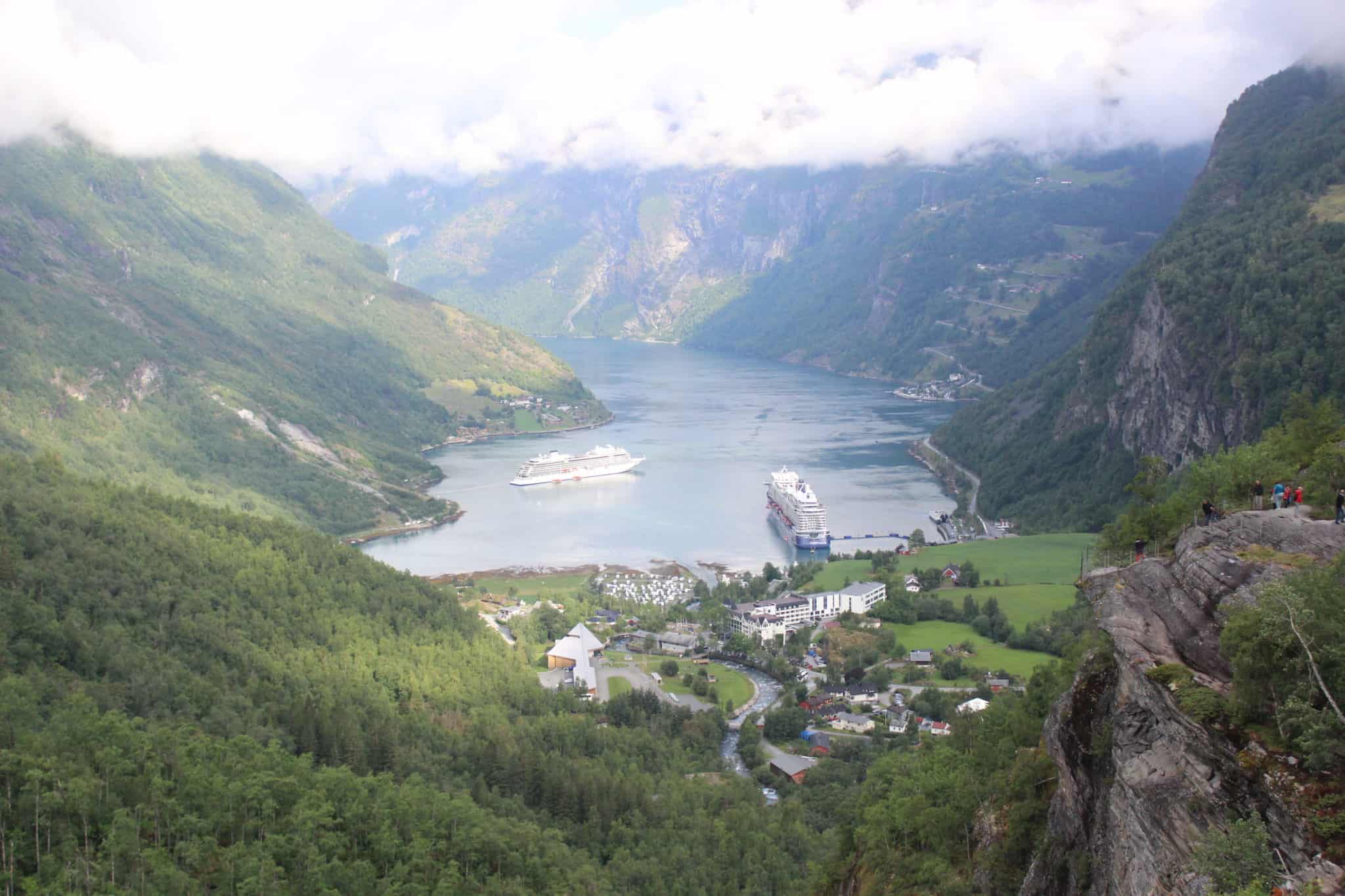 Next, we headed way up into the mountains, to one of the highest peaks in northern Europe. We were (I think) around 1,500 meters above sea level? And remember – we started on the water so we literally started down at sea level! We climbed so high we drove into and above the clouds, and came upon patches of snow that never melted from winter and near the very top, saw a tiny part of a glacier. Since the hills and slopes in this area are so steep, the roads weave around with hairpin turns so they aren't too steep to drive on. It was somewhat scary at times to be in a huge tour bus as the driver navigated these turns on a not-so-wide road, but we had an awesome driver and he did a wonderful job. Our tour guide was amazing as well – he's actually the pastor at the church in town, which almost every permanent citizen of Geiranger attends. Once we got to the highest peak, we stopped for a while and got out to take some incredible photos. Photos really can't do it justice though – my photos don't convey the awe that I'm sure we all felt up there so high.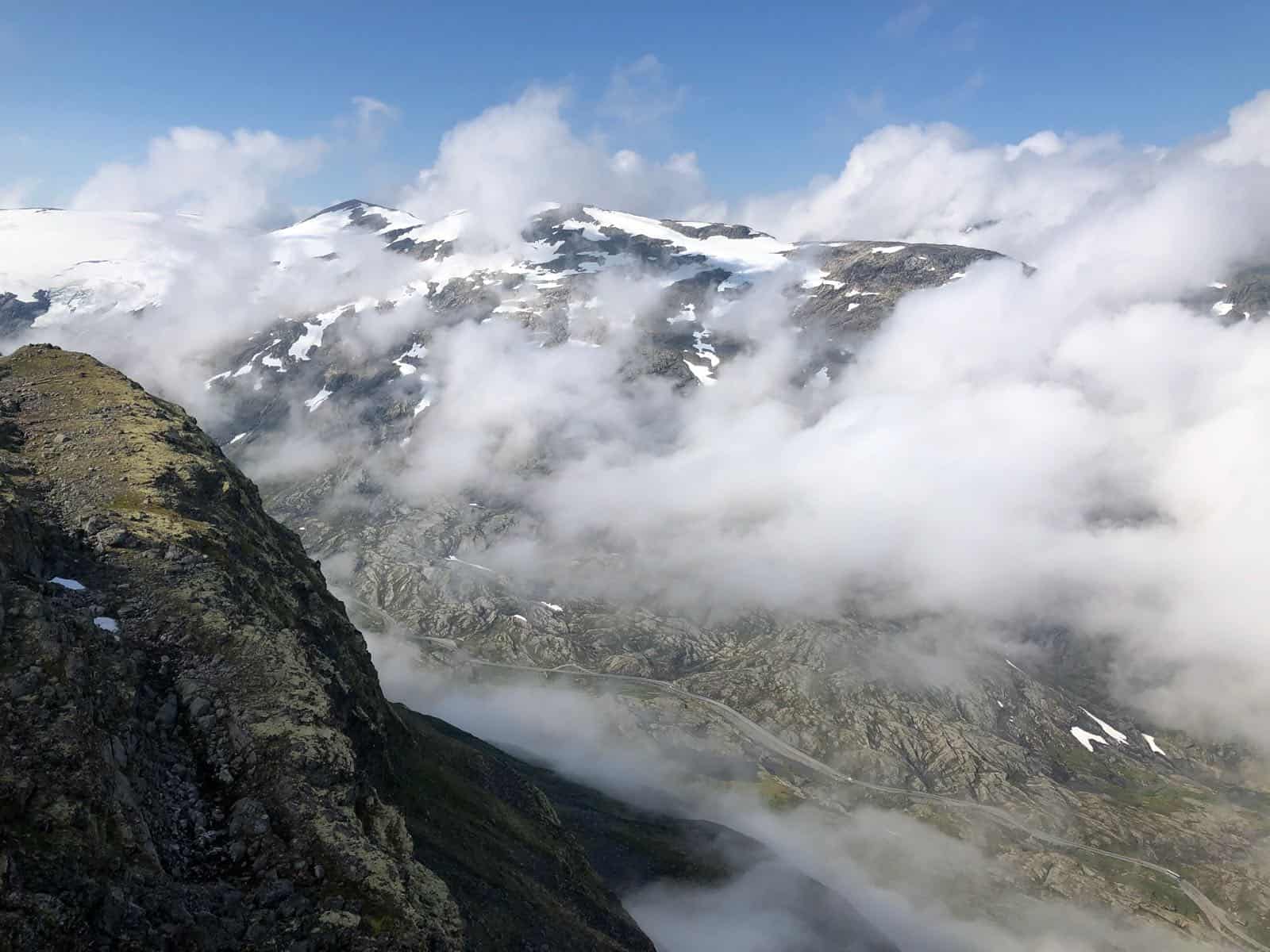 Our next stop was back partway down in town, at a hotel that served us coffee and some baked goods. It was a nice stop to get something to eat and sit down on something besides a moving bus for a little while. After that, we headed to Eagle Road for another lookout, this one partway down the fjord away from the town. It was so high up and again, absolutely stunning. You could see the entire last curve of the fjord before it arrives at its dead end in Geiranger. The water looked below so blue up here, you'd think you were in the Caribbean or South Pacific somewhere just based on that. I got some beautiful photos. There was also a random tall waterfall right by the road, which actually reminded me of home in the Finger Lakes. We have a lot of random roadside waterfalls where I live.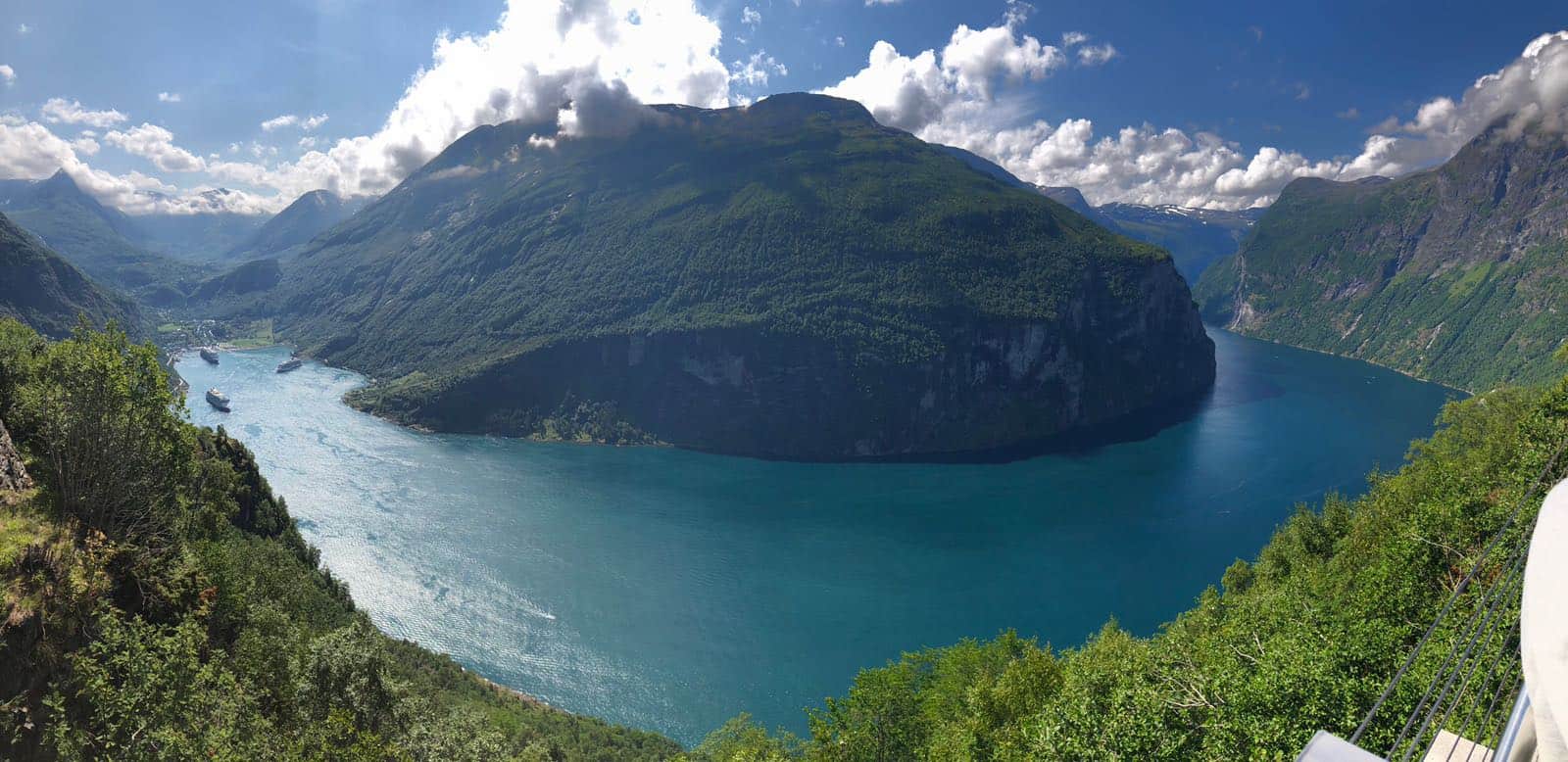 Exploring the Town
Once the tour was over, I decided to wander around the cruise port area which was filled with little shops and cafés, including a chocolate shop that's won awards for their various chocolate bars and things. I had a chocolate waffle on a stick there, freshly made and still hot inside while sitting outside in the sun. The weather forecast was iffy for today, but it ended up being hot and I was sweating in my sweater! We were so blessed to have a clear day, after all. After eating that, I wandered down to the campground that's right by the water in Geiranger before heading back the other direction to check out the waterfall that literally sits right in the middle of town. It was pretty long and roaring with lots of water. After that, we wandered back down to the cruise port area and did some browsing before catching a tender back to the ship. I so wish this beautiful place was more easily accessible for a foreigner like me that lives so far away. If I could, I would come back and camp there in a heartbeat. Or stay in a hotel, or whatever! All I know is I need more Geiranger in my life. I can't even explain how gorgeous the town and fjord and mountains are.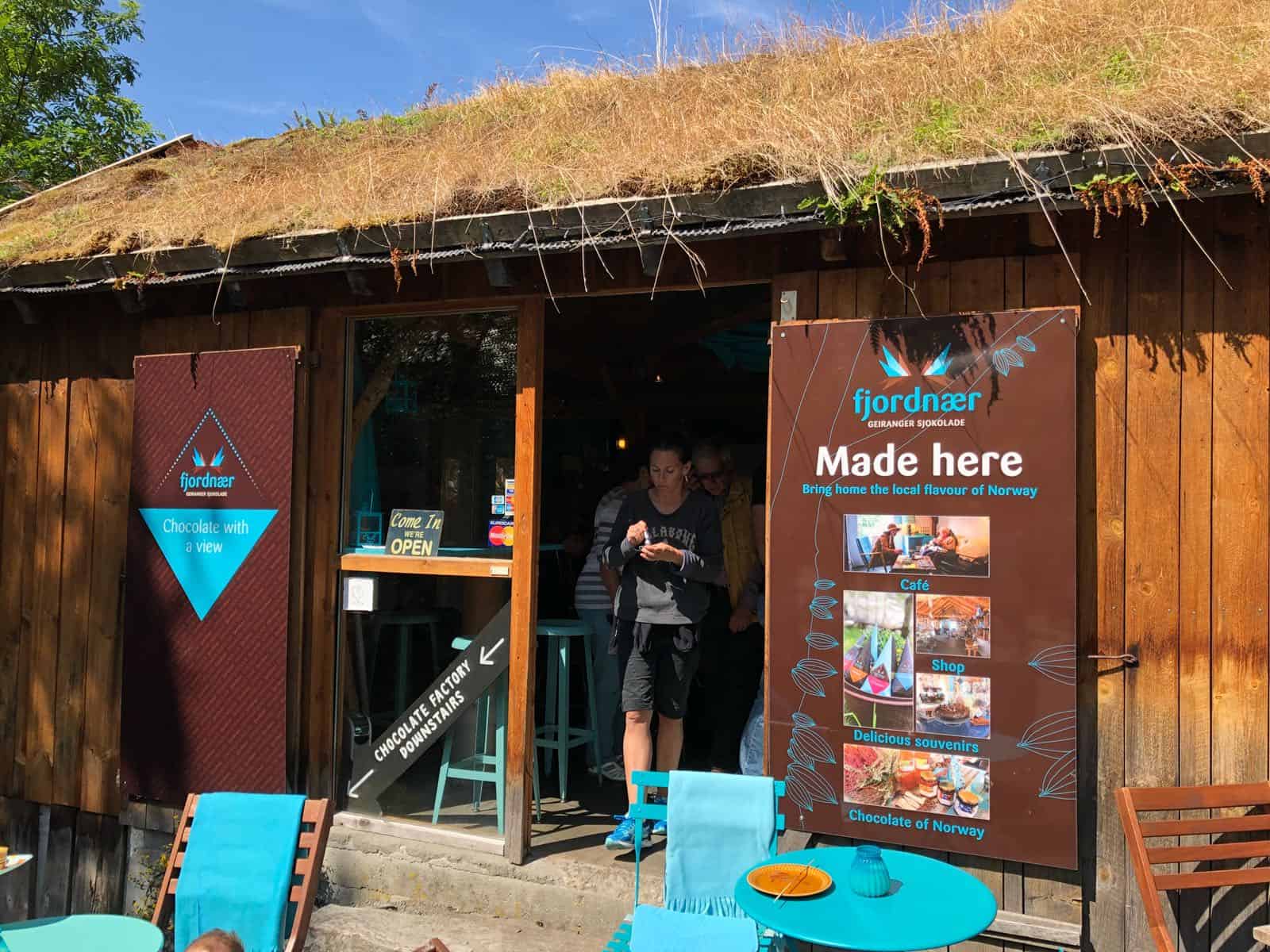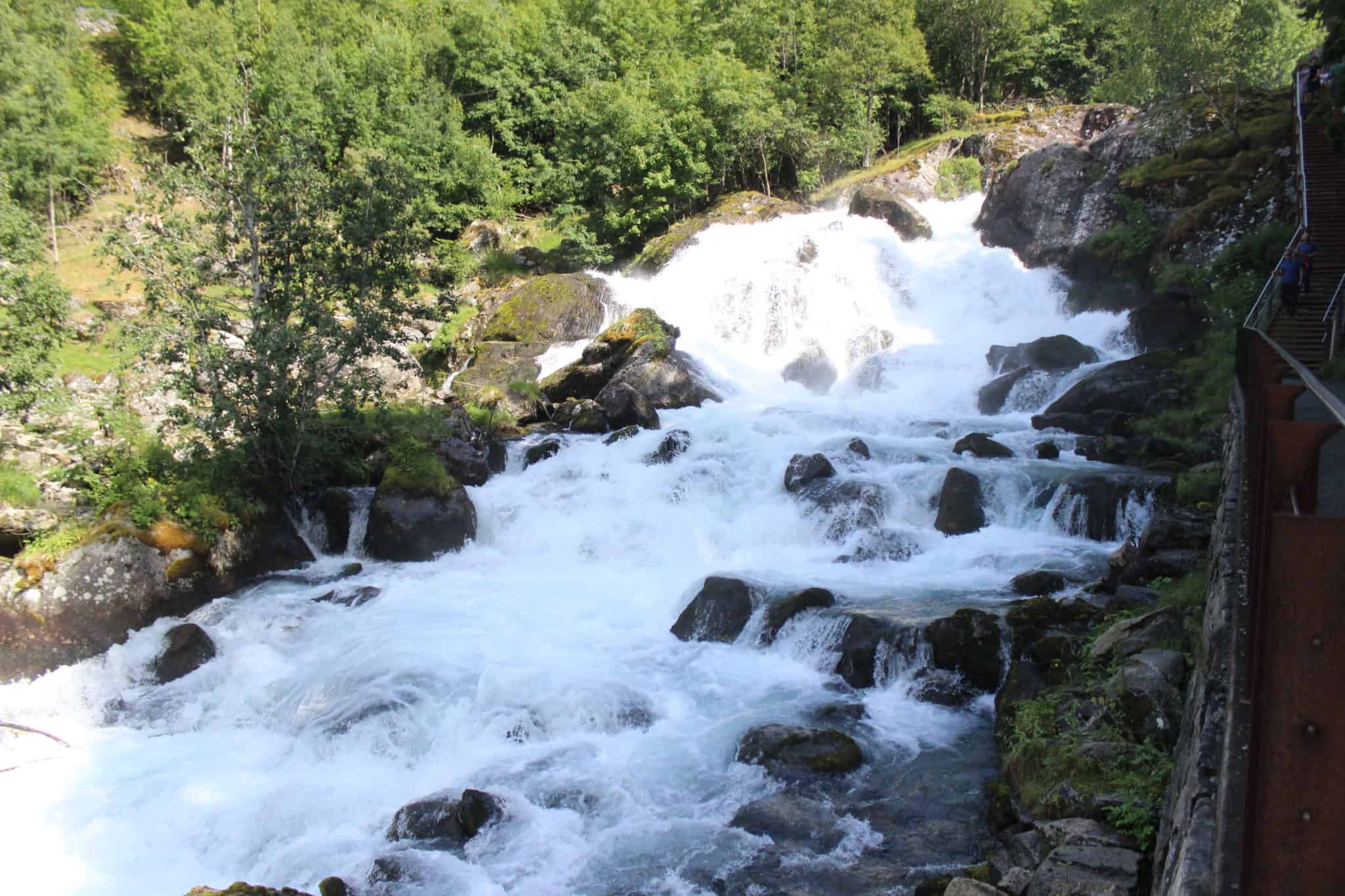 Dinner & More Photos
Back on the ship, I got dressed for dinner and headed down to the sailaway celebration/end of cruise event that almost every cruise ship does on one of the last days of the voyage. They showed a short video of various crew members and staff, and they came out and we all clapped for them and sang and danced to the music that was playing. After that, it was time to grab my camera and get ready for round two of Geirangerfjord sailing photos – this time on the way out. It was extremely windy at the front of the ship, but I got more great shots.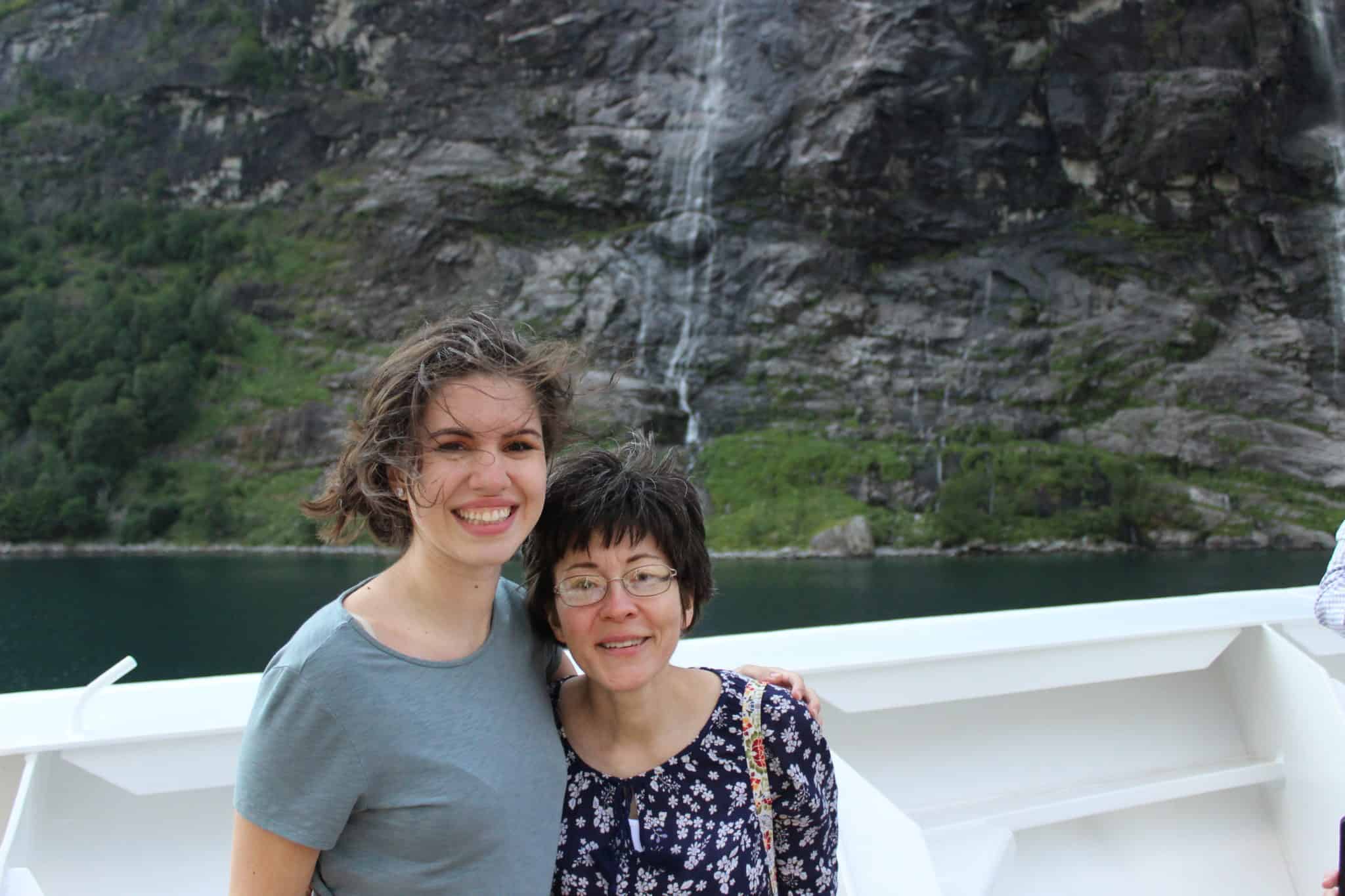 Tonight was our last dinner in Manfredi's, and I went out with a bang. I got the pasta of the day – chicken ravioli – and a pasta I had previously ordered that was covered in parmesiano reggiano sauce. Dessert was once again that delicious flourless chocolate cake that seemed more like a candy bar to me – it's like just eating a nice hunk of chocolate for dessert, and how can you be mad about that?
Evening Show
My mom wanted to check out the ABBA themed show in the Star Theater tonight, so I headed there after eating. I have to be honest, it wasn't such a great show. I love most ABBA songs and knew a lot of them, but the performers weren't the best – the singers in particular (the dancing was good). I don't usually like to rag on anyone, but perhaps the vocalists either need more direction or training, or Viking should be more selective about who they choose to be their resident singers. I saw some people leaving partway through the show, and I couldn't really blame them. I'm glad I went but I wouldn't need to see it again.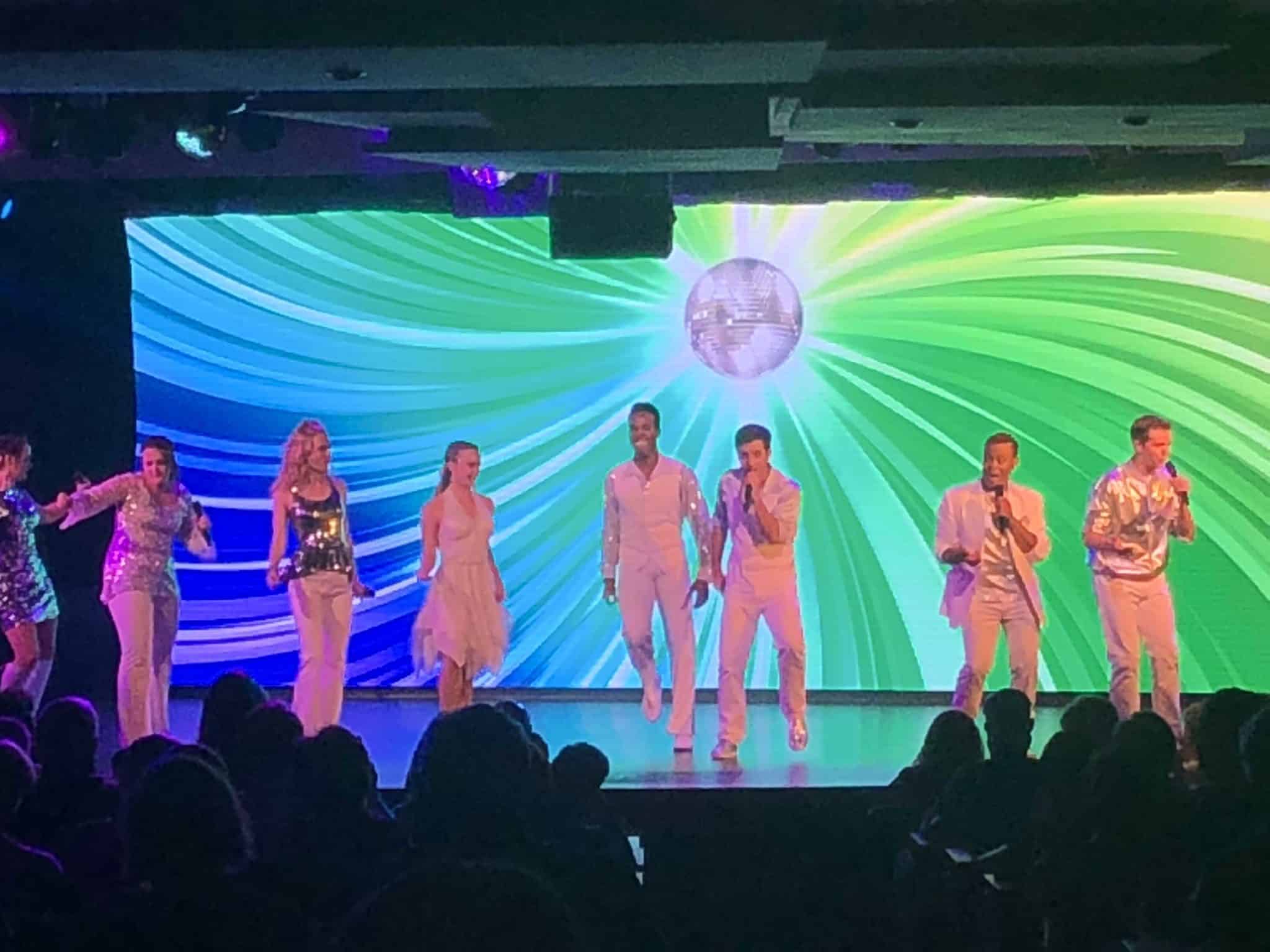 After that, we had a little game night on our own in the Wintergarden, and learned a new card game we'd never played before called Skull King. It was really fun!
Now I'm back in my cabin, and it's almost 1 am. We have two excursions tomorrow, and it's our last full day of the cruise – so it's going to be a busy day.
Goodnight.
P.S. Sorry for getting this blog up a few days late! Internet on the ship was spotty or nonexistent for parts of Geiranger and then in Bergen the next day, and yesterday (Saturday) was an extremely long and exhausting travel day, so I didn't even have a chance to open my laptop. Hope you've enjoyed these blogs! I'll have Bergen up soon. 🙂
Disclosure: Viking invited me on this cruise. As always, my thoughts and opinions are my own.