Not even a month into hurricane season and we're already seeing cruise ship diversions because of Tropical Storm Cindy. Cindy formed in the Gulf of Mexico on Tuesday afternoon and has so far impacted two Carnival Cruise Line Gulf Coast sailings.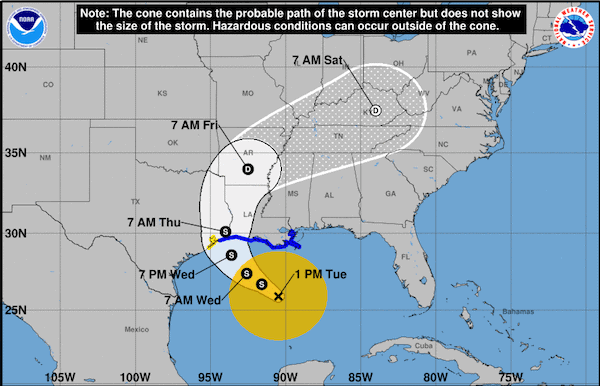 Changes  
The Galveston-based Carnival Valor, which  is halfway through her current five-night voyage, will do a port swap, with Progreso taking the place of Cozumel. She is scheduled to return to Texas on Thursday.
The New Orleans-based Carnival Triumph is on a five-night cruise that departed on Monday, June 19. Her revised itinerary has the ship calling at Progreso on Wednesday and Cozumel on Thursday before returning to Louisiana on Saturday.
Miami-based Carnival Vista will be skipping Curacao this week and spend an extra day at sea because of the remnants of Tropical Disturbance Brett. Carnival Vista is due back to Miami on Sunday.
As of now, neither Norwegian Cruise Line or Royal Caribbean have announced any changes to their itineraries, although that could change as the situation develops. According to the National Hurricane Center, Cindy is due to make landfall early Thursday morning between the Texas and Louisiana coast. Meanwhile, as frustrating as itinerary changes can be — and you can be sure there will be more in the months ahead — we'd like to offer a reminder that cruise lines don't take such itinerary alterations lightly and can sometimes even have a positive outcome for guests.