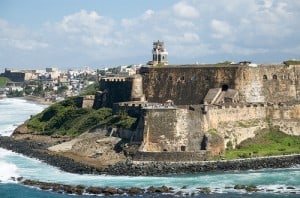 Updated: ( September 10, 2011 4:45 pm) – The port of San Juan is now open to maritime traffic.
As TS Maria continues on her NW track, the United States Coast Guard along with the port authority are bracing for tropical storm gusts in the next 12-24 hours. Tonight at 6pm, Captain of the Port, Capt. Drew Pearson raised the port status to YANKEE.
According to the USCG, "During port condition YANKEE, theport is closed to all inbound traffic, all vessels in port greater than 200GT should get under way at this time, all vessels less than 200GT are to take appropriate precautionary measure."
The next step is ZULU which means the Captain of the Port puts the harbor on lock down, which could happen for the US Virgin islands and San Juan as early as Saturday morning. Hurricane Irene caused all the ports in the Northeast  US to go to port condition ZULU when it struck as a hurricane and then downgraded to a tropical storm.
No cruise ship traffic is expected into San Juan on Saturday.
Carnival Cruise Lines' ship Carnival Victory sails 7-night Southern Caribbean sailings out of San Juan and will be sailing a modified itinerary this upcoming Sunday, skipping St. Maarten and replacing it with a "Fun Day" at sea.  As of now, Sunday's departure is still set on schedule.
Royal Caribbean is monitoring the storm for their Sunday departure of Serenade of the Seas. The Oasis of the Seas will be sailing a modified sailings to ensure comfort to the guests.
Photo credit: Flickr/dameetch