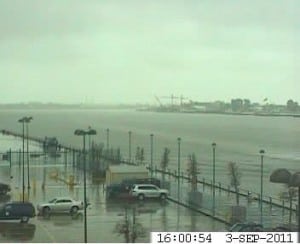 It almost seems like a repeat of last week as hurricane season affects another cruise ship sailing. The New Orleans based 1,196-passenger cruise ship Norwegian Spirit will be arriving home a day late.
According the company's website, "Norwegian Spirit will remain at sea on Sunday, September 4, awaiting an opportunity for safe arrival to New Orleans.  At this time, the ship is anticipated to arrive in New Orleans on Monday, September 5 at approximately 5 pm." The arrival time will vary on the path and speed of the storm.
All the passengers who're scheduled to embark Norwegian Spirit on Sunday are being asked to delay their trip to the pier until Tuesday. The company's site says, "The ship cannot berth earlier as space at the pier is not available."
UPDATE:
Embarkation for the September 4 Norwegian Spirit cruise will take place on Tuesday, September 6 beginning at 11 am. Guests are asked to delay their arrival at the pier to Tuesday, September 6. The ship is expected to sail at 5 pm. Because of the delay, Norwegian Spirit will sail a revised itinerary calling in Costa Maya and Cozumel, Mexico. Guests will receive a two-day refund based on the cruise fare paid as an on-board credit.
TS Lee formed earlier this week in the Gulf of Mexico and according to The Weather Channel is expected to bring up to 15" of rain to the flood prone area.
Updated Sept. 4, 2011 3:25pm