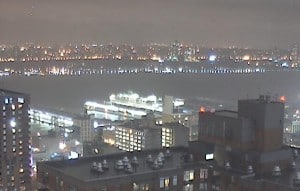 Despite Hurricane Irene being hours away from the New York City area, two cruise lines are now headed to safer waters.
Carnival Glory, departing today on a five-day eastern Canada cruise,  left Pier 88 two hours ahead of schedule to stay ahead of the storm.  They started embarkation for today's cruise at 9 am, which normall starts at 11 am.
Norwegian Jewel who is scheduled on a Bahamas and Florida itinerary was scheduled to leave the port three hours ahead of schedule. One of the stops on the itinerary is private island Great Stirrup Cay, which may be altered because of storm damage. A company spokeswoman told us, "We currently have a team at Great Stirrup Cay evaluating the island." 
The only ship that remains at the Manhattan Cruise Terminal is Holland America's ms Veendam , as of 12 pm today was still scheduled to ride the storm out at the pier.
Is it safe for a ship to stay at the pier during a Hurricane? "As long the ship's secured and fastened with tugboats alongside, it shouldn't be a problem. Heading to sea is obviously the smarter move," said Captain Parker, a retired harbor pilot.
Linda Fagan, U.S. Coast Guard Captain of the port has set Hurricane Condition Yankee for the Port of New York and New Jersey. If port condition Yankee is set, hurricane force winds are expected within 24 hours and all vessel movements will require the approval of the captain of the port.
The Port of Baltimore and Philadelphia initiated condition Yankee yesterday afternoon.
Photo credit: Andrew Henkel
Updated Aug 27, 2011 11:36pm