Seattle is an expensive city – as is every other major city out there. For months I've been seeing my friends post on Facebook and Twitter about Uber, this peer-to-peer cab service that lets you hail a cab with the push of a button. Pretty brilliant. I never thought I'd ever use it, it just seemed way to confusing for me. For a couple of nights in Seattle I stayed at the W Hotel and upon check in, I was given a $25 Uber gift card to use. With a puzzled look on my face, I asked the guy at reception if he could help me out and he obliged.
So here's how it works:
You download the Uber app to your smartphone and launch the app. You'll be asked to sign up with the app, very simple stuff. You can then hook up your credit card or PayPal account to your Uber account.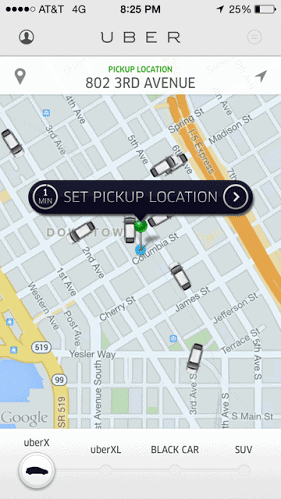 The app will launch and you'll see a GPS setting of where you are, set up your pick-up location and request pick-up. The GPS is pretty accurate within a block of where you're located. If you want to get a fare quote, enter a promo code or change your payment method – you can do that too. Tap the pick-up location and it will hail a driver for you.
Car Choices
You can request four different types of Uber cars: UberX, UberXL, Black Car or SUV. The bigger car gets you more space. I have been using the UberX car to get around Seattle and it's been just fine for me.
Car Arrival
Once you call for a car you'll have the driver, the car type and the license plate number pop up so you'll know what to look out for. Most Uber cars I've seen in Seattle are black (they may all be black?). You will have an alert on your phone tell you that your driver is arriving and sometimes, depending on where you are, the driver will call you to see where you are.
Arrival at your destination
This is the cool thing. Once you arrive at your destination everything is taken care of electronically. A receipt is emailed to you and goes straight to your phone. There is no cash exchanged, no tipping required and you are charged automatically. After the transaction is taken care of you can rate your driver.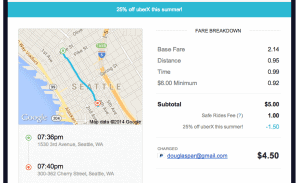 Final thoughts
I think Uber is super helpful for travelers who are looking to get around in a visiting city, friends that need a designated driver or just need to get somewhere really quick.
Early on I was skeptical of using Uber at first because it was very intimidating, but after I used it, I was hooked! I was zipping around Seattle like a local.
Uber also has flat rates to the airport that run 20% or so cheaper than a cab.
Have you subscribed to Cruise Radio yet? Subscribe to us on iTunes and Stitcher Radio Network.