Cruisers tend to fall into two different categories. There are those who are loyal to one line, whether because of its rewards program or the fact that it "fits" their particular style. Others jump from line to line, often deciding which ship to sail on based on the amenities — from restaurants to ropes courses — it happens to offer. And it is those in the latter category for whom we've decided to create the ultimate cruise ship.
Imagine if you could take the best features from each ship and meld them into something of a Frankenship. What would you take from the various ships you've sailed over the years? We compiled some of our favorite elements to create our dream ship. Read on to see what we'd steal from Carnival, Royal Caribbean, Norwegian and Princess ships… then hit the comments to add your own elements!
The Ultimate Cruise Ship
Ship Design, Interior
We're not naming names or pointing fingers, but too many ships have public spaces that are basically indistinguishable squares and rectangles. By thinking outside the literal box, Royal Caribbean's public spaces offer unconventional shapes and eclectic designs that make exploring a delight. (It doesn't hurt that many of those spaces are filled with unique, occasionally downright odd, artworks.)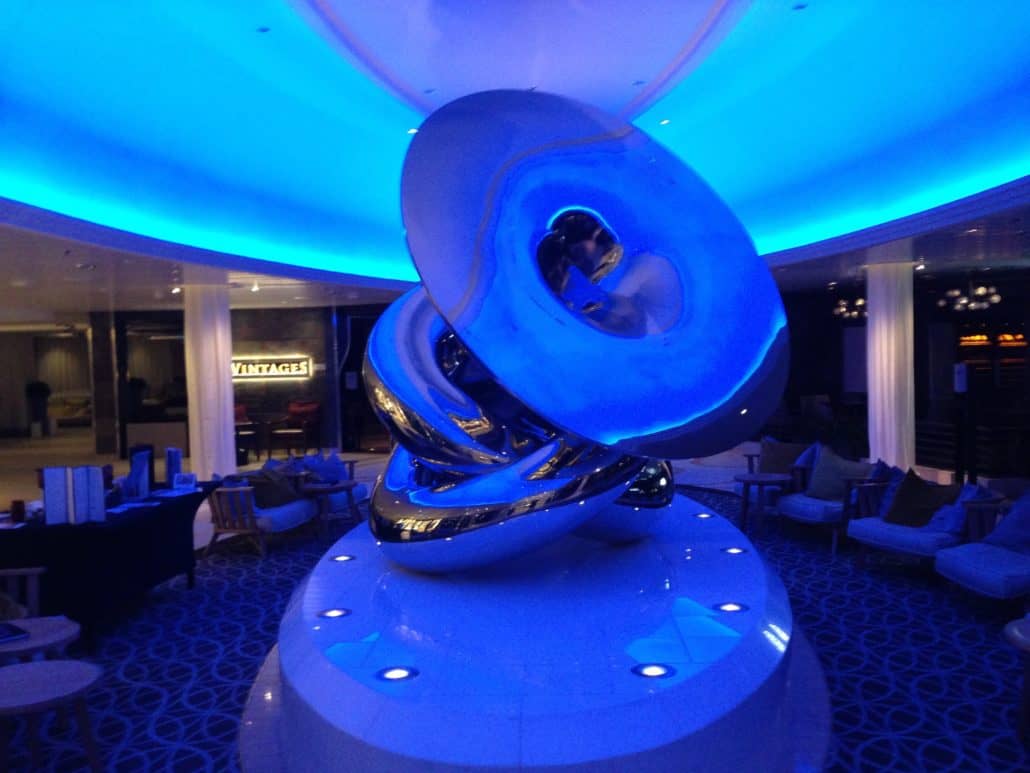 Ship Design, Exterior
Norwegian changed the game with their Waterfront area, putting passengers on their megaships closer to the ocean they love thanks to venues which offer indoor or outdoor seating. And it's not just the restaurants. Want to sip a drink at an outdoor table while listening to the jazz band playing in fat cats? Thanks to the fact they pipe the music outside, you can. So popular is this format that it's definitely become a trend, with ships like Carnival Vista and MSC Seaside among the latest to offer their spin on it.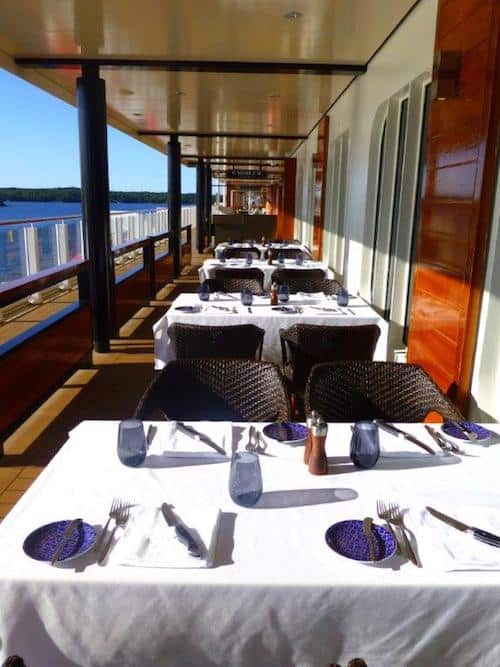 Cocktail Bar
Every ship offers specialty drinks at their watering holes, but Carnival elevated the game with the introduction of the Alchemy Bar. Don't come here looking for a glass of wine or a beer. This hot spot is all about hand-crafted cocktails that are, as the menu says, "mood enhancers developed by our mixologists." Don't see something on the menu — which is almost as much fun to read as the drinks are to consume — that's to your liking? The bartenders will make something specifically for you, with or without alcohol. (But if you don't find the Cucumber Sunrise to be the most refreshing thing you've ever consumed on a cruise ship, there might be something wrong with you!)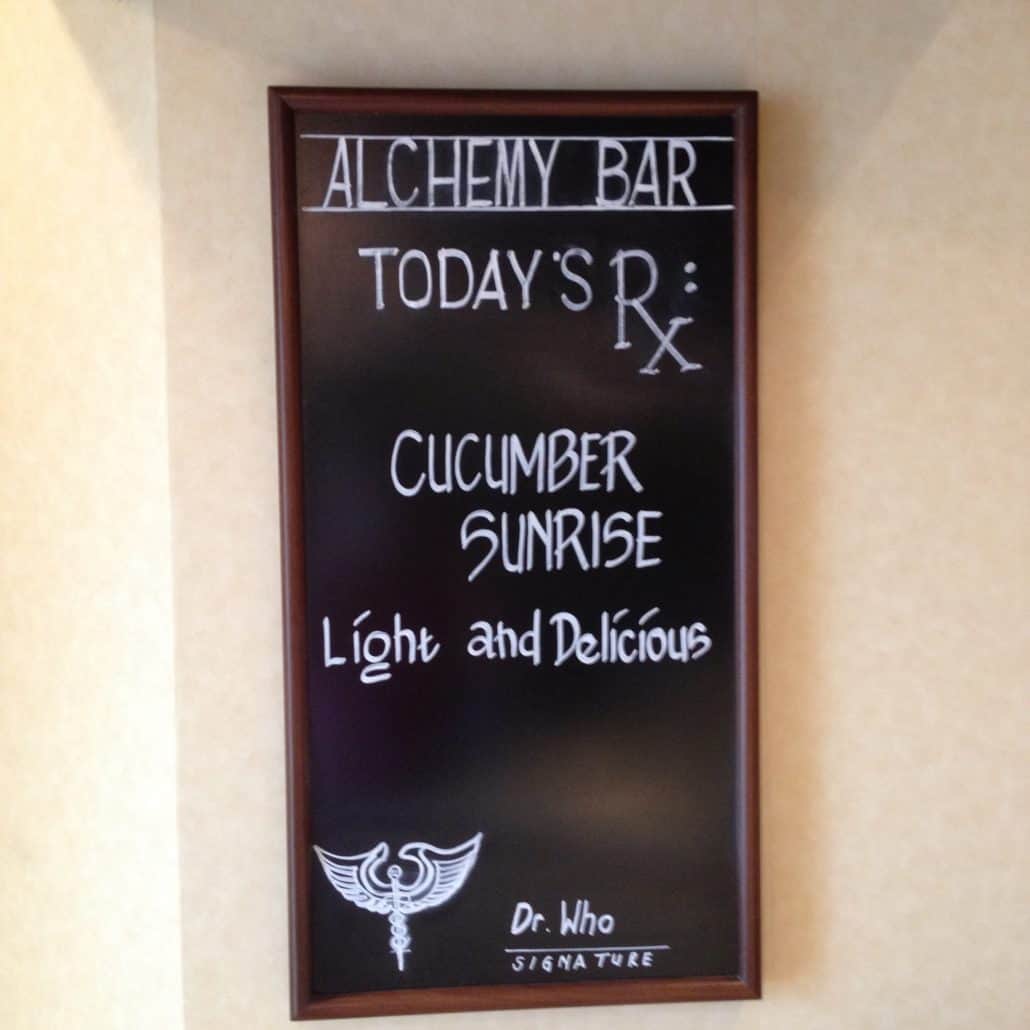 Wine Bar
Over the past few years, many cruise lines have introduced wine bars. But Holland America put a unique spin on the concept by introducing Blend on the ms Koningsdam. Passengers are offered the opportunity to bring out their inner Angela Channing (and bonus points if you get the TV reference) by creating their own vintage. After learning a little bit about wine and creating their signature label, guests can then take their bottle of vino to dinner!
Entertainment Venue
Every ship has a theater, but Royal Caribbean's Anthem of the Seas is the only ship currently sailing out of the United States in which you'll find the jawdropping Two70 complex. During the day, the two-story aft-facing space offers to-die-for views and a great place to snag lunch (thanks to the attached Cafe Two70). But at night, the space transforms into a theater space combining live performers and technology for a one-of-a-kind experience that redefines the concept of cruise ship entertainment. (We suspect Eden, the dining and entertainment complex which will be unveiled when Celebrity Edge debuts in 2018, will give Two70 some competition in this category!)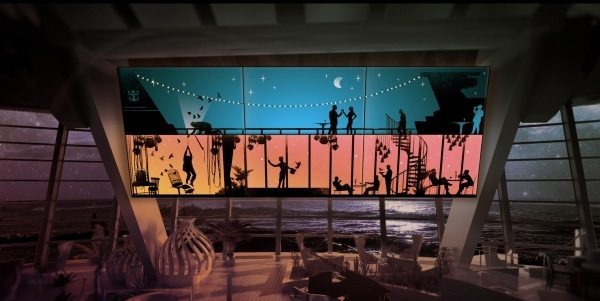 Asian Restaurant
There are a fair number of so-so Asian restaurants on cruise ships. And then there is Carnival Cruise Line's take on the standard, JiJi's Asian Kitchen. From the simple-yet-elegant design to the limited-but-perfectly-curated menu, this place gets everything right. The pork belly melts in your mouth, the Kung Pao chicken has just the right kick and the house cocktail — a green tea martini — goes down almost too easily. It's impossible to imagine our Ultimate Cruise Ship not finding room for this gem.
Unique Dining Experience
In some of the categories we've listed, there's room for debate. But this one is, as far as we're concerned, a slam dunk for Royal Caribbean's Wonderland. From the magical menu to the unusual presentation of each course, this is a foodie's paradise. But be warned: dishes like Tomato Water and Liquid Lobster won't be for everyone. This is not a place for picky eaters or children, despite the Alice in Wonderland theme. But if you're adventurous and ready for a meal you'll never forget, this is definitely the spot for you.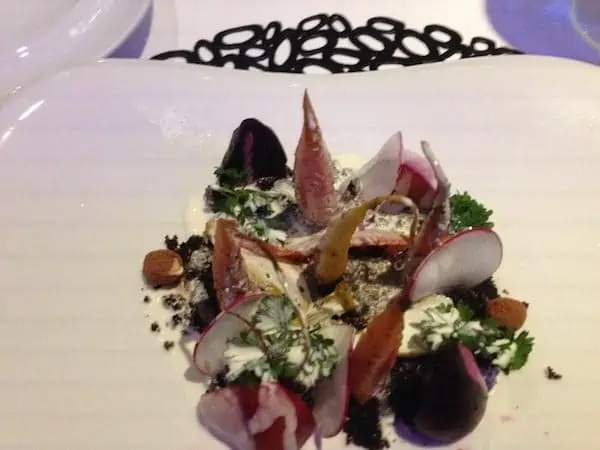 Beverage Package
There's no clear winner here, so instead, we want to pick-and-choose elements from the drink packages offered by a few lines. While we're not big fans of Carnival's 15-drinks-a-day rule, we love that it includes things like coffees, milkshakes and smoothies. (The fact that those cut into your 15 drinks a day are where the problem comes in.) And while Norwegian's drink package is ridiculously priced at over $100 a day (and does not include nearly the selection that Carnival's Cheers! package does), the vast majority of cruisers are able to get the package as a "free" perk when booking.
Bed
That's right, we've thought of everything… including the place where you're going to rest up for the next day's activities. And honestly, there was no choice but to go with Princess Cruise Line's Luxury Bed. They consulted a sleep-expert when developing it, for heaven's sake! So loved is this bed that people actually come home from cruises and order one for their own home.
What features, venues or other attributes would you insist that your "ultimate cruise ship" come equipped with?