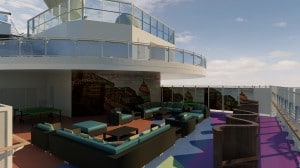 Evenings aboard Royal Princess will offer a range of lively options for passengers aboard Princess Cruises newest vessel. When the ship debuts in June, cruisers can enjoy four new production shows in the Princess Theater, try their luck in the casino, and dance for hours in the brand-new Club 6.
Among the entertainment features of Royal Princess are:
Club 6 – Royal Princess' energetic new dance club, conveniently located on Deck 6 near the Atrium, Club 6 offers a vibrant space with an intimate atmosphere and contemporary decor. Passengers can grab a cocktail and dance to their favorite hits. The resident DJ keeps the party going whether passengers just want to people-watch or get up and move to the beat.
Production Shows – With high-definition screens and a brand new lighting system to enhance each show, the Princess Theater will offer a larger and more spectacular space for the line's original production shows and entertainers. Four new productions will debut aboard Royal Princess, including "Colors of the World," an experiential journey through the destinations visited by Princess ships; "Spectacular!" a musical revue extravaganza; "Sweet Soul Music," an upbeat tribute to Rhythm and Blues; and "What the World Needs Now," a timeless, elegant show celebrating the music and style of the '60s.
Vista Lounge – A more intimate entertainment setting, the Vista Lounge will host a variety of top-notch entertainers each night, from live bands to comedians and illusionists, plus themed parties and special events.
Casino – The Princess Casino aboard Royal Princess will feature the latest new slots and table games. Passengers can indulge in their favorite games of chance, from blackjack to Texas Hold'em and roulette, or participate in the excitement of slot tournaments. Standing at the heart of the casino is a stunning spiral staircase which leads up to Deck 7 and the onboard boutiques, while an adjacent bar makes it easy to pop in for drinks between games.
Water & Light Show – Dazzling new water and light shows bring intrigue, beauty and excitement to the top deck pools with fountains that shoot plumes of water to delight and amaze all members of the family. Royal Princess also boasts a second-level stage above the pool area where live bands will play during unforgettable evening parties.
Crooners – The resident entertainer in Crooners will keep the crowds singing along while passengers try to choose their favorite from the bar's famous selection of more than 50 martini varieties.
Bellini's – The new Bellini's bar offers a prime location for watching the action in the Piazza below. This hotspot serves up a variety of Bellini-inspired drinks, including the new signature "Royal Bellini."
Movies Under the Stars – Naturally Princess' signature poolside theater will have a variety of movies and concert playing on the big screen. Featuring the largest Movies Under the Stars screen yet, Royal Princess offers passengers a great view while they relax on a comfortable lounger snuggled under a cozy fleece blanket and snack on complimentary fresh-popped popcorn or delicious cookies and milk.
The 3,600-passenger Royal Princess is a new-generation ship for Princess Cruises.
Source: Princess Cruises
Subscribe to our Cruise Updates.
Related articles