One of the most popular destinations for cruisers doing an Eastern Caribbean itinerary, Maho Beach in St. Maarten, was the site of a tragedy this week when a 57-year-old woman died after being blown off her feet by the force of a jet's engines as it landed at the airport next to the St. Maarten.
Why is  Maho Beach So Popular?
"Many tourists," said the local police in a statement, " come to the island to experience the thrills of the landing of approaching aircraft flying low above their heads and holding on to the airport fence and standing in the jet blast of large aircraft taking off. Doing this is, however, extremely dangerous." The beginning of the airport's runway is a mere 160 feet from the fence separating it from the beach.
According to the New Zealand Herald, home paper of the deceased woman, St. Maarten's tourism director, Rolando Brison, met with her family to express his condolences. "While they recognized that what they did was wrong," he said, "through the clearly visible danger signs, they regret that [the] risk they took turned out in the worst possible way."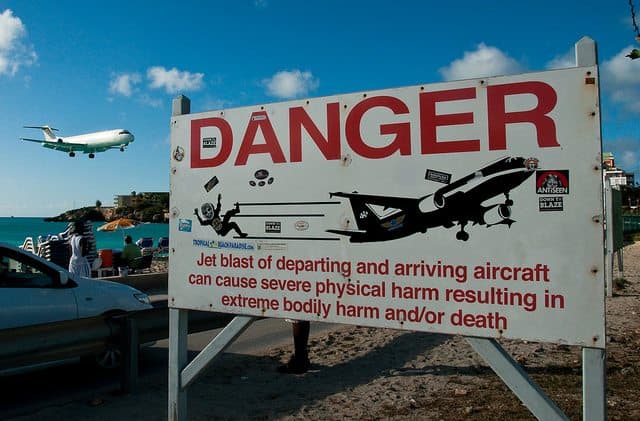 Signs posted along the fence state the clear and present danger in no uncertain terms. "Jet blasts of departing and arriving aircraft," they read, "can cause severe physical harm resulting in extreme bodily harm and/or death."
Thrill seekers like to grab onto the fence while the planes are departing. The jet blast from the airplane's exhaust can exceed speeds of a Category 1 hurricane. In this case, the landing place was a Boeing 737. The statement from the local authorities went on to say that they visit the area each day and do everything in their power to discourage tourists from clinging to the runway fence.
Photo: flickr/Rudy Chiarello