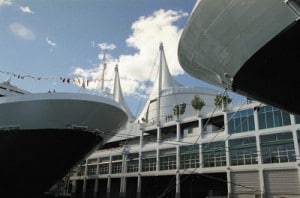 Port Metro Vancouver's 2012 cruise season begins today and marks a continuing upward trend with modest growth anticipated. Port Metro Vancouver estimates approximately 670,000 passengers, up from 663,000 in 2011, on 191 vessel calls at the Port's two cruise terminals, Canada Place and Ballantyne.
The 2012 cruise season also marks the beginning of the third full year of the award-winning shore power installation at Canada Place, the first of its kind in Canada. Shore power-equipped cruise ships can plug in and shut off their engines while docked to reduce air emissions. In 2012, nearly 40 per cent of all cruise calls will be shore power enabled.
During the 2012 Vancouver-Alaska cruise season, Port Metro Vancouver is pleased to welcome back the Princess Cruise Line's Sapphire Princess, which will return to homeport.
"We're delighted to make our summer return to Vancouver, and look forward to a successful season with 47 turnarounds in this world class port," said Jan Swartz, executive vice president of Princess Cruises.
Port Metro Vancouver is Canada's largest and North America's most diversified port, trading $75 billion in goods with more than 160 trading economies.
Source: Port Metro Vancouver
Subscribe to our Cruise News Updates.