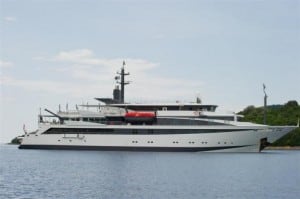 Small luxury yachting line Variety Cruises' brand new $38 million, 36-room mega yacht that was recently built in a Greek ship yard is officially underway.
The Variety Voyager is one of the top five Mega Yachts available worldwide offering 36 cabins for just 72 passengers, sleek modern design, ample deck space, unobstructed views of the ocean and ports, along with an attentive 28-member service crew.
"We are proud to present this exquisite ship as part of Variety Cruises' 11-vessel fleet," says Yiannis Vontas, Variety Cruises Senior Partner and Executive Vice President of Development & Marketing. "Launching this brand new ship is a testament to the continued growth of our company and of the increased demand for small ship cruising."
Currently operating in the Mediterranean, Variety Voyager offers guests indoor and al fresco dining, passenger lounge with reception area, deck bar lounge for late night entertainment, wellness zone, and an aft marina zone to launch the water sports equipment.
Subscribe to our Cruise News Updates.