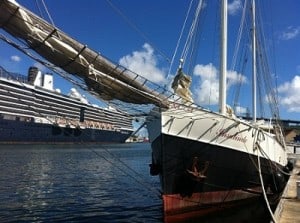 Whenever we can find the time and money, we all look forward to a holiday abroad, hopefully in the sun! Most look for something a little different when they go away, and when it comes to pleasing an entire family this can make matters even more difficult.
If you're trying to think of somewhere new and interesting to go this year that will keep everyone happy, maybe a cruise is the answer. Although some people are used to going on cruises, others may be complete strangers to the concept of boarding a floating resort for several days and stopping off in a variety of different destinations, as opposed to spending a two week break by the beach in the sun. However, there are many reasons why cruises are popular and therefore they should be a definite contender for your next holiday.
People that have never been on cruises before may worry about the price of them. In fact, especially if booked at the last minute, cruises can work out much cheaper than expected. Generally dining is included in the package, though some cruise lines may have specialist restaurants with known chefs that may require you to pay a small supplement. This just leaves you to bring however much spending money you think you will require for onboard and shore activities, drinks, and souvenirs.  Although tours can be a fun and time effective option on a stop off, why not become your own tour guide? Not only is it cheaper, but you may find little hidden gems of areas that you might not otherwise come across on the tourist track.
Another reason cruises are ideal for families, is because they provide entertainment for everyone, with a range of musical spectaculars worthy of a residency on Broadway, gaming arcades, spas, swimming pools, and cinemas to name but a few. If you want some time away from the children (and vice versa!) the kids clubs are excellent, to the point where sometimes you wouldn't even realise that there were children on board! This means that you can sit back and relax on a sun lounger, or enjoy some of the many other facilities available on board.
On a typical summer holiday, you may spend two weeks in the same, stationary, all-inclusive resort doing the same activities and eventually get a little bored with it. With a cruise, you can still relax and sunbathe by the pool, however you also get to experience the charm that several new cities and different countries have to offer. Although you won't get as long to explore as you'd perhaps like, it gives you a taster of a smattering of places that you could always choose to go back to one day for a longer stay. It's also the only real opportunity when you can visit a plethora of new and exciting places in one go, unless you're feeling adventurous and want to go backpacking instead!
There are many different cruise routes to choose from – if you're on a budget then a Caribbean cruise may be a good option, or if you have a little extra to spare then why not go on a cruise of Northern Europe?
If you saved up and visited each of the places that you would be seeing on the cruise individually, it would most likely end up being a lot more expensive and would use more of your holiday allowance, whereas with a cruise you could see them all in one round trip. So the next time you're flicking through holiday brochures, make sure that you have a pile of cruising ones to look through as well, just in case…
Subscribe to our Cruise News Updates.