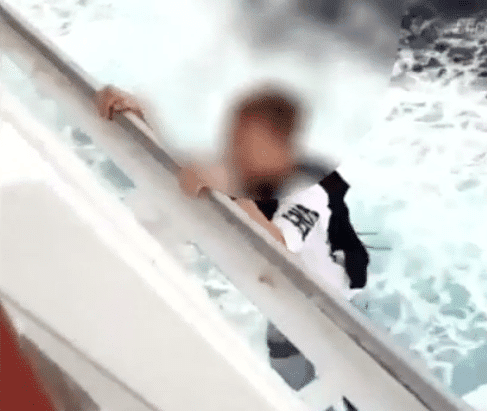 As cruisers, we're all used to the antics of children. They'll get in an elevator and push all the buttons so you wind up stopping at every floor, or they'll use their grubby little hands to grab at items on the buffet. But the "kids" we're talking about today are old enough to know better… and could be putting themselves and others in harm's way.
"They are not invincible!"
This week, a video sent to KPRC2 of Houston, Texas shows a teenager climbing over the side of Carnival Liberty while others laughed and at one point can be seen helping him back over the railing. "Kids just don't understand that they are not invincible," passenger Buffy Halbrooks Augustine told the news outlet. In a statement, the cruise line said, "We have become aware of the video and are investigating. We strongly condemn any such behavior by our guests that puts themselves or others at risk."
Who's To Blame?
It's easy to imagine that if this young man had been injured or even killed as a result of his own actions, his family would seek to sue the cruise line. But it's important to acknowledge that the real responsibility here lies not only with the young man, but with the parents who allowed him to be both unsupervised and clearly out of control.
Last week on Norwegian Breakaway, I watched a young man — somewhere around 20 years old — have a verbal altercation with security guards during one of the dance parties held at Spice H20. When they attempted to curtail his undesirable behavior, the young man went into spoiled, privileged brat mode. "My parents are platinum members," he snapped at them, as if one of the perks offered by the rewards program is the freedom to violate the ship's rules. "I've been on 12 cruises. My family might as well own you." he continued.
To the credit of the security staff, they managed to handle the obnoxious passenger with class while defusing the situation. (Were it me, you can bet I'd have summoned his platinum-plated parents from wherever they were on the ship and let them deal with their son. Then again, given that young people don't learn their behaviors in a vacuum, it's almost a foregone conclusion that they would have been as obnoxious, if not more so, than their pampered prince.)
The fact is that far too many parents consider the staff of the ship babysitters for children of all ages. And while many ships do offer childcare, far too many parents opt instead to let their offspring run wild with little concern for their safety or the comfort of their fellow passengers. It might be time for actions to start having serious consequences. Wonder how the parents of these out-of-control young people would feel if at the next port, their family was ushered ashore and told to find their own way home?
The bottom line is this: If you're going to take a family vacation, take responsibility for your family. As a parent, that's your job… and it can't be temporarily reassigned to the ship's staff.
To view the video in question:

Screenshot image: Click2Houston.com