Viking Cruises has announced today that American chemist, emergency room doctor, and retired NASA astronaut Dr. Anna Fisher will be honored as godmother to their fifth ocean ship, which will debut in July 2018. The vessel has been named Viking Orion after the constellation and in honor of Dr. Fisher's contributions to NASA's Orion exploration vehicle project.
Float Out Ceremony
The 930-guest ship reached a major construction milestone last week, when she met water for the first time during her float-out ceremony at Fincantieri's Ancona shipyard. Viking Orion will spend her first year sailing the Mediterranean before making her way to Asia, Australia, and then Alaska.
"The idea of exploring new territories has always appealed to me, whether through science or by traveling the world. I was 12 years old when I heard Alan Shepard's voice on the radio during his sub orbital flight, and at that moment, I knew that I also wanted to explore beyond earth's atmosphere. I knew from that young age that I wanted to be an astronaut," said Dr. Fisher. "I always wanted to be an explorer and I am proud and honored to be godmother to Viking Orion – a ship that was designed to help her guests see more of the world."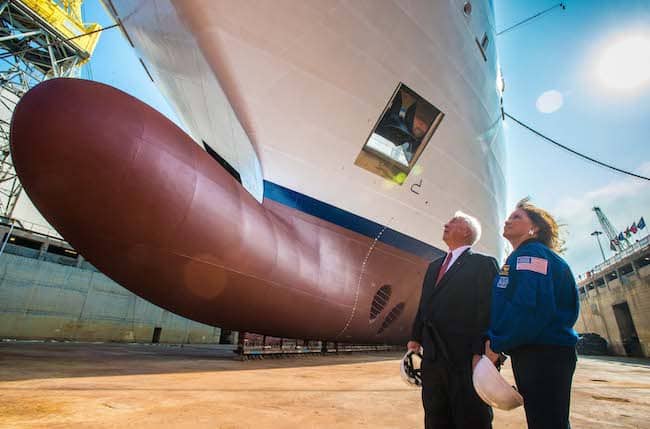 As the ship's godmother, Dr. Fisher assisted with the float-out ceremony, first "mast stepping" by welding coins under the ship's mast. The commemorative coins she welded represented her birth year, as well as the birth year of Chairman Torstein Hagen. Two special coins were also welded to represent members of the Hagen family: 1911 for Ragnhild "Mamsen" Hagen, the mother of Chairman Hagen, and 2012 to represent Finse, the yellow Labrador of Karine Hagen, Viking's senior VP and daughter of Torstein Hagen. Dr. Fisher then cut a cord to allow water to begin flowing into the ship's building dock.
Dr. Fisher holds a master's degree in chemistry and a Doctor of Medicine degree from the University of California. Selected as an astronaut in 1978, she was one of the "original six" women accepted into NASA's astronaut training program. She became the first mother in space during a mission aboard Space Shuttle Discovery in 1984. During her NASA career, Dr. Fisher contributed to three major initiatives: the Space Shuttle program, the International Space Station, and Orion. Prior to her retirement in April 2017, she was also the oldest active American astronaut. To celebrate her retirement, Dr. Fisher sailed on Viking's Rhine Getaway itinerary this past July.
Ship Details
Viking Orion, formerly known as Viking Spirit, is the fifth of eight ocean ships planned for the fleet. By 2019, Viking will welcome their sixth ship, and two more are on order for delivery in 2021 and 2022. Highlights include:
All veranda staterooms – guests can choose from five categories, all with premium amenities line king-size beds, large showers, heated bathroom floors, and interactive LCD TVs
Explorer suites – the ships feature 14 explorer suites which offer sweeping views from wraparound verandas as well as the most amenities and privileges of any cabin category
The Wintergarden – this elegant space lies under a canopy of Scandinavian trellised wood, where guests can enjoy the quiet and indulge in afternoon tea service
Dining choices include fine dining in The Restaurant, the World Café with international and regional specialties, The Kitchen Table with a market-to-table concept, Mamsen's with Norwegian deli-style fare, The Chef's Table specialty experience, and more.
World-class lectures – guests can enjoy lectures on history and art, participate in wine-tastings, listen to informative port talks, and take part in the onboard cooking school. Aboard Orion there will also be lectures on astronomy and space exploration.
From now to October 31, 2017, Viking is offering US residents special offers, with 2-f0r-1 cruise fare and up to free international air on select river and ocean itineraries.
SaveSave