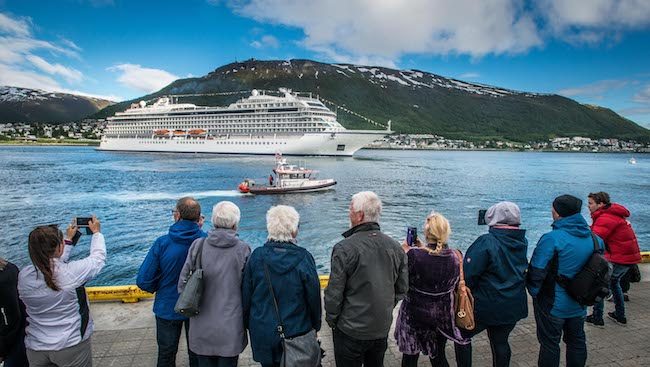 Viking Cruises has announced that their third ocean ship Viking Sky has been christened during a public celebration in Tromsø, Norway.  Located above the Arctic Circle, Tromsø is a popular destination for viewing the northern lights, and a key port of call on Viking's popular "Into the Midnight Sun" itinerary sailing between Bergen and London.
The 47,800-ton small ship sailed into the Tromsø harbor this morning, where she received a warm welcome with water cannons, music from local bands, and flag-waving local residents.  After arriving the ship was positioned in the harbor beside a concert stage for the celebration.  Viking guests and residents of Tromsø were treated to a public concert with performances from musicians including Arctic Philharmonic, Lisa Stokke, Violet Road, Sara Marielle Gaup Beaska, and Jørn Hoel.  During the ceremony, Marit Barstad, sister of Viking Chairman Torstein Hagen, served as ceremonial godmother and offered a blessing of good fortune and safe sailing for the ship – a naval tradition that dates back thousands of years.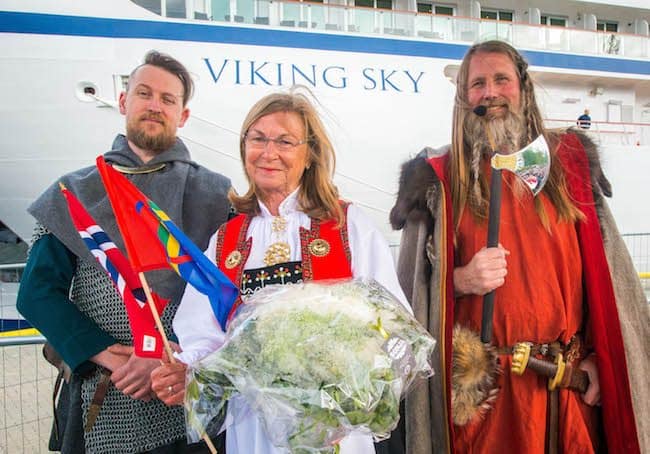 Several elements of the ceremony paid homage to the Norwegian heritage of the company.  instead of breaking a bottle of champagne, Viking Sky was christened with a bottle of Gammel Opland aquavit, which hails from the same county in Norway where Torstein and Marit's mother Ragnhild – also lovingly known as "Mansen" was born.  "Mamsen's," the deli onboard Sky is also named after Ragnhild, and Gammel Opland was her favorite brand of aquavit.
Additionally, in honor of the Viking explorers, a gilded Viking axe was used to cut the cord for the aquavit christening.  Immediately following the christening, Viking Sky set sail to mark the summer equinox in Nordkapp (North Cape).  Aboard the ship guests were treated to a special christening dinner with Norwegian delicacies and musical performances.  The ship will spend her summer season sailing Scandinavia and the Baltic.
From now through June 30, 2017, residents of the United States can take advantage of special offers from Viking Cruises including 2 for 1 cruise fare and up to free international air on select itineraries.  Contact Viking Cruises or your travel agent for more information.
Photos: Viking Cruises