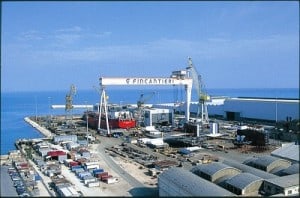 Viking Ocean Cruises, sister company of Viking River Cruises, the world's leading river cruise line, and Fincantieri, world leader in cruise shipbuilding, today announced the signature of a Memorandum of Agreement for the construction of two new luxury ocean cruise ships. The memorandum also includes an option for a third vessel.
In line with Viking's intimate, destination-focused approach to cruising, the new ocean ships will be small by today's standards at approximately 45,000 GRT and will host 998 passengers in 499 cabins. The first ship is scheduled for delivery in late 2014, the second one in late 2015.
The parties have reached an agreement on the financial and technical aspects of the deal and expect to sign the contract shortly, once the final documents and conditions are finalized.
Torstein Hagen, Chairman of Viking, commented on the announcement: "We started Viking River Cruises to offer great destination experiences, and we are excited to bring this same destination focus back to ocean cruising. The ship designed by Fincantieri has a fresh and innovative design well suited to deliver the award-winning Viking experience."
Giuseppe Bono, Fincantieri's Chief Executive Officer, said: "We are delighted and honored having been selected by Viking Ocean Cruises to build such an innovative project."
Source: Viking River Cruises
Subscribe to our Cruise News Updates.