Viking announced today that it has taken delivery of its first-ever expedition ship, Viking Octantis.
The delivery ceremony took place this morning at Fincantieri's VARD shipyard in Søviknes, Norway. The vessel will set sail tomorrow towards South America as it prepares to welcome passengers in January for the line's first voyages to Antarctica.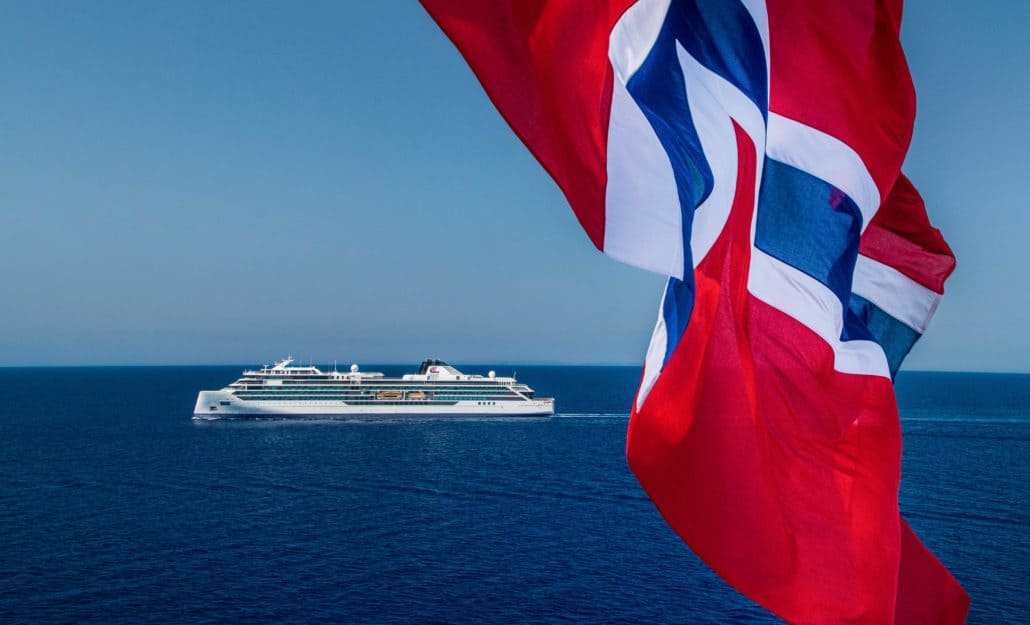 Octantis will officially be named in April in New York City by her ceremonial godmother, famed explorer and educator Liv Arnesen. The ship will then make her way to the Great Lakes for a series of spring and summer cruises.
A second identical ship, Viking Polaris, will join the fleet in August 2022 for sailings to the Arctic and Antarctica.
"Today is a proud day for the entire Viking family as we welcome our first expedition ship to the fleet and usher in a new era of exploration. Our guests have asked us to build on our award-winning river and ocean voyages to take them further, and that is just what we have done," said Torstein Hagen, Chairman of Viking.
"With the arrival of Viking Octantis, Viking is now exploring all seven continents, and we look forward to welcoming her first guests on board in the coming weeks."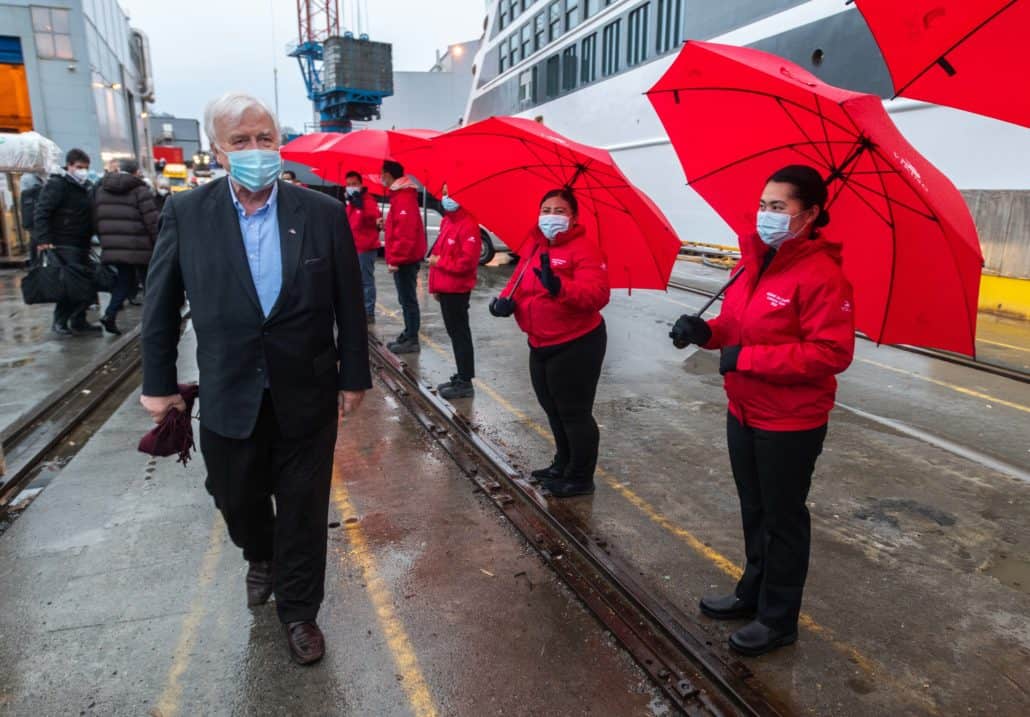 Viking's new Polar class expedition vessels hold 378 guests each, and have been designed by the same interior designers, nautical architects, and engineers that designed the line's longships and ocean ships.
For these expedition vessels, an integrated bow creates a longer waterline for the ships, and state-of-the-art fin stabilizers allow the ships to glide over the waves for the calmest possible journey. Ice-strengthened Polar Class hulls provide the safest way to explore frigid regions, and U-tank stabilizers decrease rolling by up to 50 percent when the ships are stationary.
Highlights of Viking Octantis and Polaris include:
The Hangar
The Hangar is an enclosed, in-ship marina that features an 85 foot slipway allowing guests to embark and disembark excursion craft from a flat, stable surface inside the ship. The hangar also features a FerryBox — a set of instruments that are continuously collecting and displaying data on water quality, oxygen content, plankton composition, and more.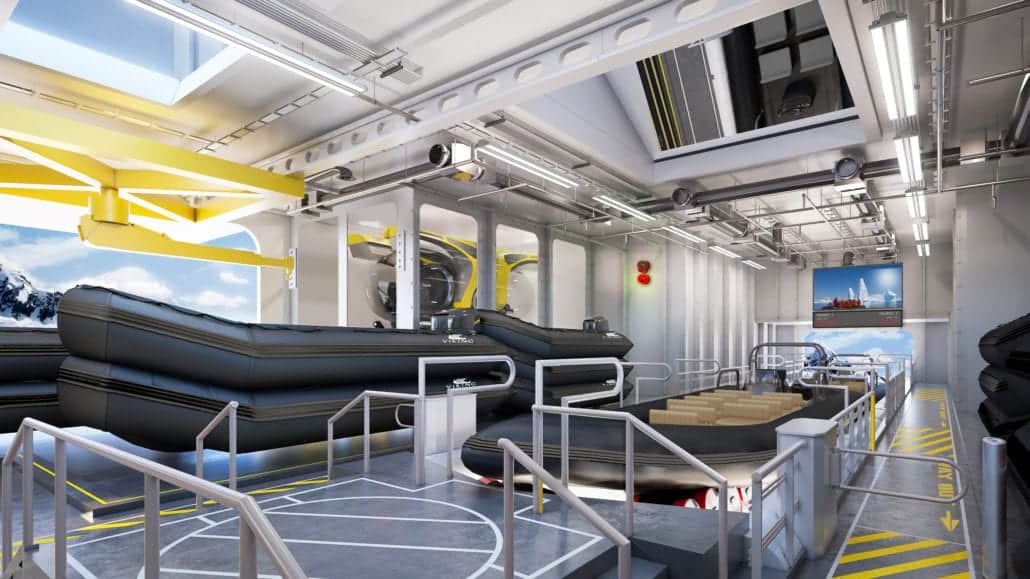 The Science Lab
The Science Lab is a first for the expedition cruising industry, as these two vessels are the first expedition ships to feature substantial onboard laboratories. Developed with the University of Cambridge and Akvaplan-Niva, the 380-square-foot lab is designed to support a broad range of research activities.
It's equipped with wet and dry lab facilities, a sample processing area, fume cupboard, freezer and cool storage, microscope optics, and more. Guests have supervised access to The Science Lab, which is located in a glass-enclosed mezzanine above The Hangar.
MORE: The Pros and Cons of Future Cruise Credits
Expedition Equipment
Expedition Equipment of all kinds is available to guests at no extra charge. This includes a fleet of military pro zodiacs, a fleet of two-seater Arctic-tested kayaks, and two 12-seater convertible Special Operations Boats.Each ship will also include two six-passenger submarines with revolving seats and 270-degree spherical windows.
Guests will also be provided expedition kits with things like boots, binoculars, and waterproof pants.
The Aula & Finse Terrace
The Aula is a panoramic auditorium at the stern of the ship, inspired by the University of Oslo's ceremonial hall where the Nobel Peace Prize was historically awarded. The venue will host lectures and entertainment, with floor-to-ceiling windows and 270-degree views.
Adjacent to The Aula is the Finse Terrace, an outdoor lounge area just above sea level with recessed couches and waming lava rock "firepits," perfect for enjoying the ship's surroundings.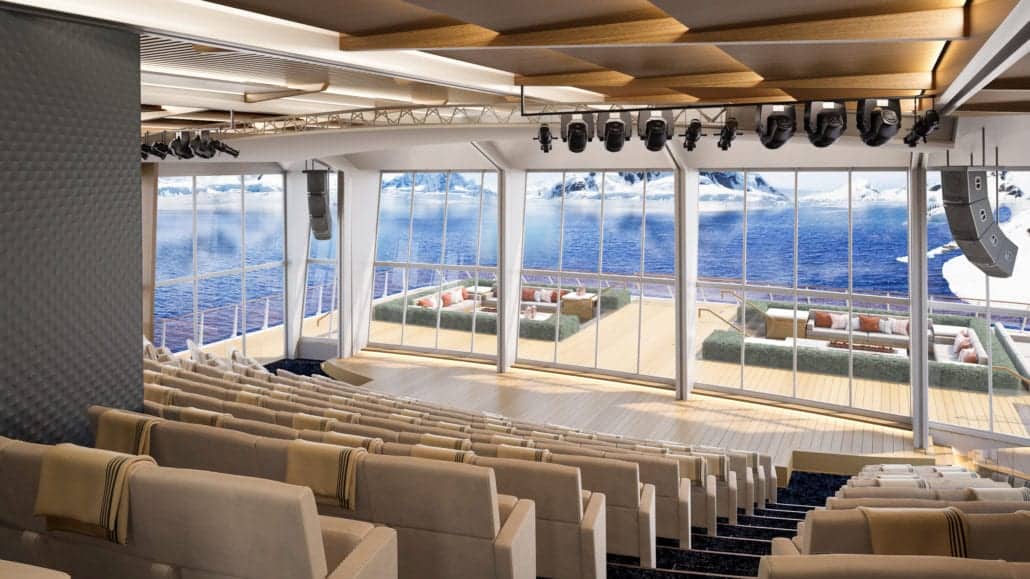 Nordic Balcony
All staterooms on both vessels will feature a Nordic Balcony — a sunroom that converts into an al fresco viewing platform. The floor-to-ceiling glass lets guests take in the views while keeping the elements out.
The top of the glass lowers, transforming the sunroom into a sheltered lookout with an observation shelf at elbow level to stabilize binoculars or a camera.
The ships will feature six stateroom categories ranging from 222 to 1,223 square feet: Nordic Balcony, Deluxe Nordic Balcony, Nordic Penthouse, Nordic Junior Suite, Explorer Suite, and Owner's Suite.
In addition to the balconies, all staterooms feature glass-enclosed showers, heated bathroom floors, anti-fog bathroom mirrors, and a drying closet to store clothing and expedition gear.
Aquavit Terrace & The Pools
Located at the stern and including a retractable glass dome, the indoor-outdoor heated space allows guests to be surrounded by their destination as they swim and lounge in three temperature-controlled pools, including an "inside-out" swimming experience.
Nordic Spa & Fitness Center
The Nordic Spa features a thermal suite with a sauna, snow grotto, hydrotherapy pool, chaise lounges, and a traditional Norwegian badestamp (wood-sided hot tub).
The state-of-the-art Fitness Center provides the latest equipment and workout gear.
Explorers' Lounge
Similar to Viking's ocean ships, Viking Octantis and Polaris have a two-deck Explorers' Lounge at the bow to take in the scenery through double-height windows.
READ NEXT: Luxury Line Announces Two New Arctic Expedition Cruises in Summer 2023