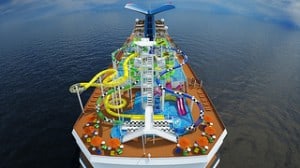 Carnival Cruise Lines released an interactive tour today of the upcoming Carnival Sunshine, the lines biggest refurbishment yet. Currently sailing as Carnival Destiny, soon-to-be Carnival Sunshine leaves Miami on February 4 for a 16-night transatlantic cruise before heading to a 49-day drydock, emerging April 12, 2013.
Available at www.carnival.com/sunshine, the virtual tour takes viewers on a flyover of Carnival Sunshine's many new on-board features and innovations – all part of the line's groundbreaking Fun Ship 2.0 enhancement initiative. Complete transformations include Serenity, Cloud 9 Spa, Cabin Décor, The Atrium and Liquid Lounge, Steakhouse, Piano Bar, Library Bar, Beach Pool, Seaside Theater, Ocean Plaza, Red Frog Pub, Java Blue Café, Waterworks and Sports Square, Havana Bar, Cucina del Capitano, Asian restaurant, Guy's Burger Joint and other Fun Ship 2.0 features.
Also, the cruise line is giving you a chance to win with the "Grab Your Destiny" contest, running today through Feb. 25, 2013, with a chance at a bunch of prizes, a cruise and pieces of Carnival Destiny before the $155 million dollar transformation.
Carnival Sunshine will debut with a series of Mediterranean cruises in April before repositioning to New Orleans in November to operate year-round seven-night Caribbean sailings.
Subscribe to our Cruise News Updates.
Related articles