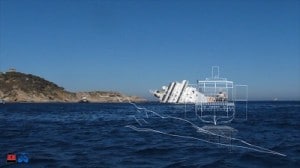 Costa Cruises, in partnership with Titan/Micoperi, launched a website today that provides a wealth of information and images relating to the Costa Concordia wreck-removal project at www.theparbucklingproject.com.
"Parbuckling" is the technical term for the process of rotating the wreck into an upright position — one of the most complex and crucial phases of the removal plan.
The site is available in both Italian and English (though some parts are only available in Italian), and provides a reference resource for journalists and anyone interested in learning more about the monumental and unprecedented technical challenge.
The site's main features include background information about the project and the companies involved, up-to-date news, multimedia assets including videos, 3-D animations and pictures; thematic insights and technical details.
The removal plan is an extremely dynamic operation, so the website will be constantly updated to reflect the different phases of the plan and covering the future timetable and workflows.
Source: Costa
Subscribe to our Cruise News Updates.