I'm constantly looking for ways to save money when cruising. We all know that international data and text plans are handy, but they also add up; it doesn't matter where you are.
WhatsApp
Recently while searching in the app store I came across WhatsApp.
This free text app is perfect for texting when you're cruising or in a foreign port.  When you install the app on your device, it asks you for your phone number and name, finds everyone in your address book that has WhatsApp, and then puts them on your favorite list. Very simple.
Reasons I love it
It works using data as well as wifi, so you aren't just limited to waiting until you get to a wifi connection.
Data usage is minimal. (see below)
It shows you when someone reads or is typing a message.
You can create a profile.
You can change your status so people know not to call you, but only message you.
They have a great company privacy policy.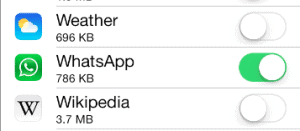 How it helped me
As I write this, I am on a 10-night Canada/New England sailing aboard Holland America's ms Eurodam. The cruise started in New York City and will eventually end in Quebec City, Canada.
The problem I faced is that I have to be in contact with my production assistant constantly. I downloaded WhatsApp and it solved that issue. You can buy the minimal internet package on the cruise ship, log on, text, and log off. It's pretty quick and lets you know when your messages have been delivered.
iMessage Debate
I know that you can sometimes iMessage on ship's wifi, but the problem with that is the bandwidth it takes to send the text out. Also, if you're sending a photo, it could takes minutes to send because it sends the full file size, unlike WhatsApp, which reduces the file size.
Final Thoughts
You don't have to buy internet minutes on a cruise ship to use WhatsApp. WhatsApp is also handy at wifi hotspots anywhere in the world or if you have an international data plan. You can literally send hundreds of texts and still be under a megabyte. I went 10-days on this trip and never exceeded one megabyte of data for text-only messages. Pictures eat up a little more space, but not much.
For more information on WhatsApp you can check out their website here.
Do you have any favorite cruise apps for communication?
Pin this!