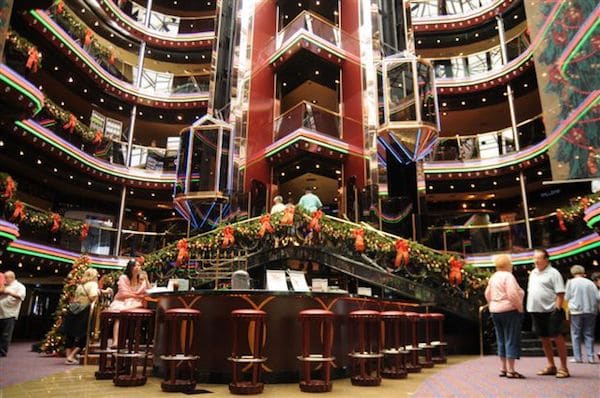 Sure, it's not quite Halloween yet, but for folks planning their holiday getaways, it's beginning to feel a lot like Christmas. After all, voyagers who plan sailings around the holiday season want to know exactly when the ship they are traveling on will undergo the transformation from Fun Ship to Ho-Ho-Holiday Ship. So without further ado, we present the schedule for when the various ships within the Carnival fleet will be decorated. Check out the list, and then hit the comments to share with us pics from your favorite Christmastime cruise.
Carnival Vista Goes First
Perhaps appropriately, Carnival's newest ship, the Vista will also be the very first one to get Christmasified on Saturday November 12! And the last ship to undergo the process will be the Liberty, which won't get its holiday makeover until Sunday, December 17!
Here's the complete schedule:
Carnival Vista, Saturday, November 12
Carnival Glory, Wednesday, November 16
Carnival Miracle, Saturday, November 19
Carnival Sunshine, Saturday, November 19
Carnival Conquest, Sunday, November 20
Carnival Fascination, Sunday, November 20
Carnival Magic, Sunday, November 20
Carnival Pride, Wednesday, November 23
Carnival Inspiration, Friday, November 25
Carnival Victory, Friday, November 25
Carnival Legend, Saturday, November 26
Carnival Sensation, Saturday, November 26
Carnival Triumph, Saturday, November 26
Carnival Dream, Sunday, November 27
Carnival Imagination, Sunday, November 27
Carnival Splendor, Sunday, November 27
Carnival Valor, Sunday, November 27
Carnival Fantasy, Monday, November 28
Carnival Elation, Thursday, December 1
Carnival Paradise, Thursday, December 1
Carnival Ecstasy, Friday, December 2
Carnival Spirit, Friday, December 2
Carnival Freedom, Saturday, December 3
Carnival Breeze, Sunday, December 4
Carnival Liberty, Sunday, December 17