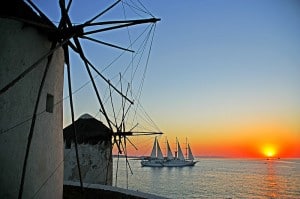 Earlier this year we were at a press conference in Miami Beach where Windstar Cruises announced the names of two of the three ships they acquired, Star Legend and Star Breeze. The first acquired ship, Star Pride, will be christened in Barcelona this May.
"In 2015 Windstar's fleet will be double its current size, which really enables us to expand our itinerary offerings. We offer our guests an outstanding opportunity to explore the hidden coves, renowned ports, and legendary landmarks of the world that others can't reach," said Hans Birkholz, Windstar Cruises' chief executive officer.
New Events
Starting in 2015, all itineraries will feature a spectacular Private Event, created exclusively for Windstar guests. These complimentary events were crafted to give guests an in depth local experience. Private Events include activities such as dinner under the stars in the magnificent Celsus Library of Ephesus to dining on the beach of a private motu in Bora Bora.
New 2015 itineraries
Northern Europe Wonderlands:

 Explore Northern Europe's legendary cities and enjoy some of the world's greatest art masterpieces, in addition to beer and chocolates on this epic voyage on board Star Legend. Departing from London, England on June, 19, 2015 this new seven-day voyage, sails between the Baltic and the North Sea on the Kiel Canal and spends two days in Amsterdam. Ports of call include Vlissingen, Netherlands; Hamburg, Lubeck, and Warnemünde, Germany; and Copenhagen, Denmark.

Lands of the Midnight Sun:

 Cruise along the stunning coast of Sognefjord, Norway, and visit Windstar's newest port of call, Reykjavik, Iceland, a modern city steeped in Viking history, on this 11-day voyage to some of the world's most spectacular fjords. Departing from Copenhagen, Denmark on June 26, 2015, and Reykjavik on July 7, 2015, this cruise includes three luxurious sailing days on board Windstar's new power yacht, Star Legend as well as visits to Bergen, Flam, Geiranger, and Alesund, Norway; Lerwick, Shetland Islands; and Torshavn, Faroe Islands, Denmark.

Baltic Delights:

 Witness the convergence of Baltic history, traditional culture and modern architecture, capped by an overnight in St. Petersburg, Russia on this 10-day sailing on board Wind Surf or Star Legend.  This voyage includes stops at Copenhagen and Bornholm, Denmark; Gdansk, Poland; and Klaipeda, Lithuania; as well as Tallin, Estonia; Helsinki, Finland; and Stockholm, Sweden, departing July 18 and 28, 2015.

Spectacular Scandinavia: 

View the stunning beauty of Norway's fjords, sparking Scandinavian capital cities, as well as the palaces, canals, and copper spires of Copenhagen, Denmark on this nine-day voyage on board Wind Surf. Departing from Stockholm, Sweden on August 7, 2015, this voyage includes an overnight in Copenhagen, and ports of call in Bornholm and Skagen, Denmark; Warnemünde, Germany; Visby, Sweden; and Kristiansand and Oslo, Norway.

Gems of France & Iberia:

 From the soulful strains of fado to the granite castles of Brittany and a stout of strong English beer, this nine-day voyage is full of fascinating discoveries. Wind Surf departs from Lisbon, Portugal on August 24, 2015 and visits Cherbourg, St-Malo, and Brest, France; El Ferrol and Vigo, Spain; Porto and Lisbon, Portugal.

Windmills & Tall Sails:

  Take part of the world's largest sailing parade, Sail Amsterdam. Watch the parade from the comfort of Wind Surf, the tallest sailing yacht in the world. Departing from Oslo, Norway on August 16, 2015, this eight-day cruise offers an overnight in Amsterdam, Netherlands, and stops to Kristiansand, Norway; Rotterdam and Vlissingen, Netherlands; Zeebruge, Belgium; and Dover, England.

Spanish Serenade:

 Explore the stunning mix of new and old world charm in some of Spain and Portugal's most culturally and archaeologically rich cities on this eight-day voyage on board Star Breeze or Star Legend. Beginning May 31, 2015, depart from Barcelona, Spain or Lisbon, Portugal and cruise along the spectacular Spanish coast to  Palma, Almería, Málaga, Gibraltar, and Seville, Spain; and Portimao, Portugal.
The line will also call in Reykjavik, Iceland for the first time in 2015.
For more information on Windstar Cruises, check out their website: https://www.windstarcruises.com
Source/photo: Windstar Cruises
Related articles