For all you wine lovers out there, MSC offers a unique onboard experience that involves sipping, creating, and learning all things wine.
Price
For $45, you can enjoy this intimate, entertaining, one-of-a-kind experience. Throughout the class, you not only learn about wines, but you also get to enjoy a variety of wines while you mix them to create a bottle of your own. Then, your wine master himself bottles up it for you, and has it delivered to your stateroom.
Details
Four wines are used in this blending process, and are poured and first tasted from lightest to heaviest: Merlot, Cabernet, Syrah, and Zinfandel. It is interesting to have the wine expert talk you through the tastes that you are experiencing but maybe can't quite describe.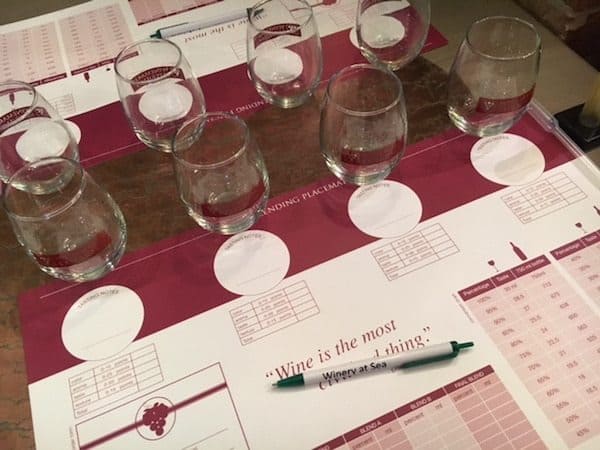 The Process
After all of the wines are poured and sampled, the blending begins. It was recommended to rank the wines in order of preference and start your blending with at least 60% of your favorite. For those of you who are not good with math – not to worry, a cheat sheet is available. From there, you can add different percentages of the other wines and then adjust accordingly with each mixture until you find your perfect blend.
Greg blends up your perfect bottle of wine with a label that has your wine's creative made up name, as well as a vineyard if specified. If not, one is made up that goes along with your name. On the back of the bottle it is listed what percentage of each wine is in your blend.
Drink it Onboard
Depending on the length of the cruise and when you create your wine, you can take it and enjoy it at dinner, or bring it home as a souvenir.
Final Thought
The class was very entertaining and the instructor makes what could be an intimidating class, very laid back.
Pin this!