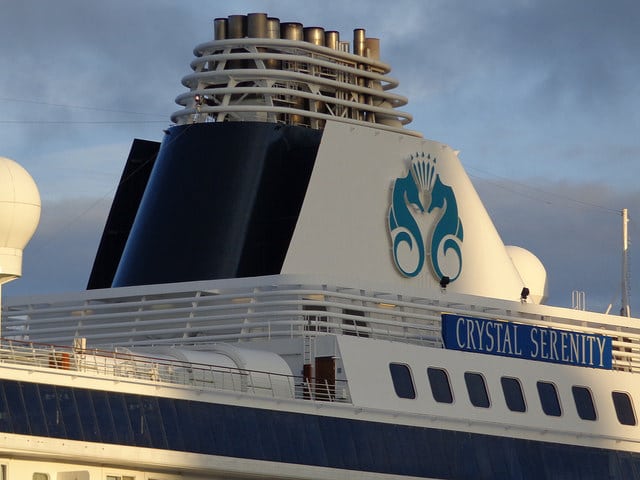 Most of us look forward to setting sail on a cruise a couple times a year, and dread returning to port and, by extension, the real world. But what if you could simply keep on sailing? We're not talking about working on the cruise ship, but actually calling it home! Every now and then, you hear stories about folks who have decided to do just that.
Recently, USA Today profiled Lee Wachtstetter, an 86-year-old Florida native who has called the Crystal Serenity home for the past seven years. "My husband introduced me to cruising," she told the paper, adding that during the course of their 50-year marriage, they set sail 89 times to over 100 countries. "The day before my husband died of cancer in 1997," she explains, "he told me, 'Don't stop cruising,' so here I am today, living a stress-free, fairy-tale life!"
Of course, the first question that comes to mind is, "How much does it cost to live on not just a cruise ship, but a high-end vessel such as the Serenity?" The answer: It ain't cheap. "About $450 is my daily average cost," according to Wachtstetter. "It's pricey, but luckily, my husband was an excellent provider."
And why did she pick the Crystal Serenity? "I enjoy dancing," she explained, "and this, I believe, is the best cruise line that still uses dance hosts. My husband didn't dance, just didn't like to, but encouraged me to dance with the hosts."
It's worth noting this isn't the first ship on which she's resided. "I lived on a Holland America liner for three years," she shares. "The day they announced they were stopping the dance-host program was the day I decided to leave."
Turns out, that old adage about putting on pounds while cruising has held true. "Since coming on board," she admits, "I've put on 23 pounds." A four month liquid-and-fruit diet helped the octogenarian shed the pounds, but as we've all experienced, they came back once she resumed her regular eating habits!
"I'm so spoiled," she admitted, "that I doubt I would ever be able to readjust to the real world!"
Can you imagine living on a cruise ship… or would it be too much of a good thing? If you were to live on a ship, which would you choose… and why?
featured photo: Flickr/Alan Brown
Pin this!