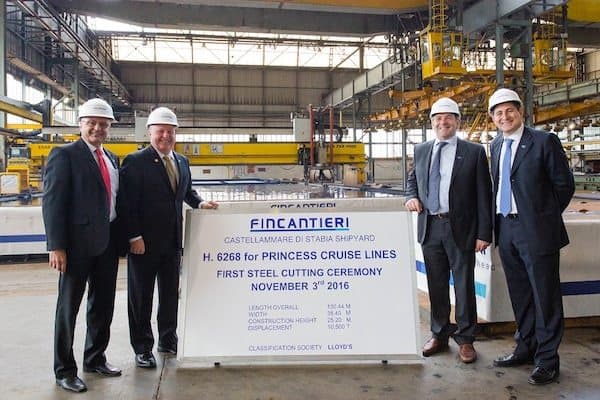 The steel cutting ceremony for Princess Cruises' fourth Royal class ship was held last week.  Princess and Fincantieri officials gathered together at the shipyard in Italy to celebrate the occasion.
"Today's steel cutting of Hull 6268 signals the continuation of a 16 year partnership that has delivered some of the most spectacular and innovative cruise ships at sea for Princess Cruises," Keith Taylor, Princess executive VP of fleet operations said. "We are delighted with the longevity of our partnership with Fincantieri and know that this next ship will follow on the successful design platform demonstrated with her sister ships."
The new build follows sister ships Royal, Regal, and Majestic Princess.  The vessel's name is yet to be announced, but we do know that it's scheduled for delivery in 2019.