The future is definitely upon us, in a very real and tangible way.  No, I'm not talking about global warming (although hello warmth on the East Coast in December!) or package delivering drones.  I'm talking about a robot that can actually read primary human emotions.  His name is Pepper, and he's headed out to sea.
The Costa Group has signed an exclusive agreement with the French company ALDEBARAN for the use of their "Pepper" robots.  He's the world's first robot that can read human emotions, and is the perfect helper and guide of guests aboard cruise ships.  The robot will provide entertainment as well as guidance aboard AIDA and Costa Cruises; Costa Group's cruise brands.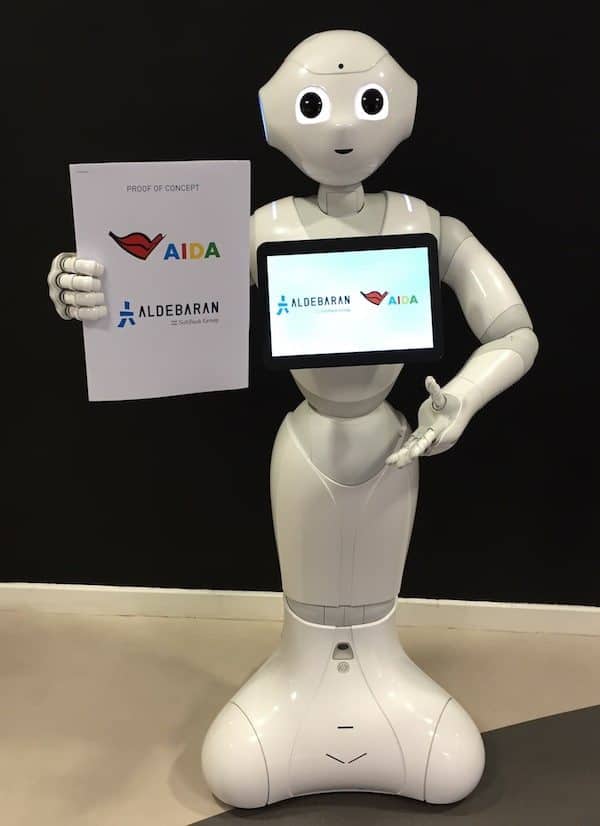 Pepper has already finished an internship aboard AIDAstella and, like any good student, passed with flying colors.  He demonstrated impeccable engagement and guidance skills, and has been deemed, without a doubt, seaworthy.  The first batch of these advanced robots will join the crew aboard AIDAprima and Costa Diadema in spring 2016, guiding guests as they embark as well as while onboard.  They will speak near-perfect German, Italian, and English; providing recommendations and tips on restaurants, events, and excursions.
By summer 2016, the rest of the robots will be joining the crew aboard the entirety of Costa and AIDA's fleets.
Who is Pepper?
Launched in June 2014 in Japan, Pepper is the first humanoid robot in the world capable of recognizing basic human emotions and taking his environment into account and acting accordingly.  He's equipped with features and a high-level interface to communicate with people around him, to move fluidly, and analyze expressions and vocal tones using the latest in voice and emotion recognition technology.
Pepper in figures:
4′ tall and weighs 61.7 lbs
17 joints for graceful movements
3 omnidirectional wheels to move with ease
a 3D camera for detecting people and their movements and interacting with them
a 10-inch touch screen
Photos courtesy of the Costa Group.